Catalogs.com Departments

News & Articles

Home Decor and Gifts – Classic Hostess
Home decor and gifts that only look expensive
Making a home a showplace of high style doesn't have to come at a high cost. At Classic Hostess, you'll find wonderfully unique, truly classic and exceptionally made home decor and gifts that are the picture of affordable elegance. Whether you're searching for just the right gift for the perfect host or hostess who seems to have everything, or are looking to add warmth and grace to your own home through decor and accessories, romantic lighting, special occasion dinnerware, stemware, barware and more, you'll feel right at home at Classic Hostess.


A wonderfully affordable choice of home decor and gifts -- just because you have expensive taste doesn't mean you have to spend a lot to make your home look like a true showplace…at Classic Hostess, shop home decor, gifts for entertaining and more at prices anyone can appreciate, including picture-perfect photo albums and frames, clocks of every kind, tasteful tabletop accessories, accent tables, wall art, sconces and lighting, too.... read more


This catalog is currently out of stock.


Please search through our categories for another catalog.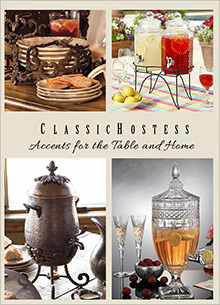 More About Home Decor and Gifts – Classic Hostess :
Other great Classic Hostess - DYNALOG ONLY departments:
Home decor and gifts for an unforgettable dinner party -- if you love to entertain, take your party planning skills to the next level with beautiful buffet-style servers, delightful dinnerware, cake plates and stands, pitchers, place card holders, punch bowls, trays, trivets and so much more.
Barware designed to elevate cocktail hour -- whether your home decor style is cool or classic, trendy or traditional, you're sure to find a wonderfully eclectic mix of barware, including wine decanters, stemware and goblets…drink dispensers and drink stirrers…cool martini shakers and ice buckets…and a host of other items for a well-stocked bar.
Shop stylish, distinctive, affordable wedding gifts, too -- if you're tied up in knots, wondering what to get for the bride and groom, trust that Classic Hostess has something truly unique that they're sure to cherish, like silver plated picture frames, artistic wedding and anniversary albums, crystal toasting flutes, vases, heart bowls and other lovely gifts.