Horse Theme Bedroom - Back in the Saddle
A horse theme bedroom is perfect for equine lovers
For kids and grownups alike who love the freedom and beauty that horses represent, a horse theme bedroom is a wonderful way to fall asleep among these gorgeous animals every night.


The horse theme bedroom linens and accessories you'll find here work for boys and girls, men and women. Little girls will love the pink puff pony sheet or comforter set, while young boys will go wild for the blue horse collection comforter set.... read more



Shop for horse theme bedroom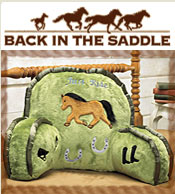 More About Horse Theme Bedroom - Back in the Saddle:
Other great Back in the Saddle departments:
All kids will enjoy snuggling with a pony shaped pillowcase. A Just Ride lounge pillow is great for sitting and reading, while a Palomino sleeping bag is sure to be a hit at any sleepover!


For the grownup horse lovers, a horse theme bedroom isn't complete without a horse heaven coverlet, horseshoe quilt cover, mare and foal coverlet, gallop tapestry bedding and more. You'll find bedding items like comforters, shams, sheet sets, comforter sets, pillows, throw pillows, duvets and much more, all designed with beautiful horses and the horse lover in mind.
Back in the Saddle has everything you need to create an inviting and classic horse theme bedroom, ensuring sweet slumber surrounded by horses every night of the year!