Horse Theme Ideas - Back in the Saddle
Horse theme ideas can turn your home into a horse lover's dream
Outfit your home from this huge collection of horse theme ideas and get ready to showcase your passion for these majestic and elegant animals indoors and out!


For anyone whose favorite animal is horses, you are going to love the horse theme ideas you'll find at Back in the Saddle. You can be surrounded by these beautiful creatures wherever you go with sofa covers, coverlets, garden fountains, canvases, prints, wall plaques, tile murals, statues, rugs, sculptures, lamps, bedding, decals and more, all designed with horse lovers in mind.... read more



Shop for horse theme ideas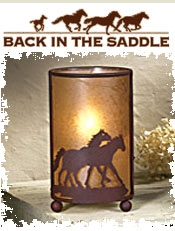 More About Horse Theme Ideas - Back in the Saddle:
Other great Back in the Saddle departments:
Now you can wake up in the morning and go about your day with horses in every room!


From little horse theme ideas like whimsical salt and pepper shakers to big sofa covers and wall hangings, you'll find home decor accessories that will leave no doubt about your love for horses. Feel the freedom and enjoy the beauty every horse themed item brings, no matter which room you're in. Then tuck yourself in with pony sheet sets and a selection of horse coverlets for sweet dreams!
You're sure to love these horse theme ideas if you love horses, for your kitchen, bedroom, living room, outdoor and more!