Catalogs.com Departments

News & Articles

Wooden Display Table - United Displays of America
A wooden display table is perfect for showing collectibles
Do you need the perfect complement to a room as well as a unique place to showcase your prized collectibles? Then a wooden display table is the perfect solution.


Glass tops make it easy to see whatever you choose to display, whether it's souvenirs from the 50 states to teacups to silverware. Your treasured items are protected from dust and breakage, allowing you to enjoy them for years to come.... read more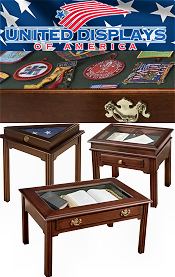 More About Wooden Display Table - United Displays of America:
Other great United Displays of America departments:
A wooden display table looks beautiful in any room of your home, whether you exhibit rare articles or choose to show more whimsical pieces.


United Displays of America offers a range of display tables, proudly crafted in the U.S.A. from fine cherry wood and featuring brass hardware. An elegant wooden display table can house treasured bibles, souvenirs, military medals and even the country's flag. Whatever you use it for, this distinctive table is sure to add beauty to your home.
Create a classic showpiece with collectibles and souvenirs by placing them in a wooden display table that's sophisticated and beautiful.