Renewable Energy Wind Turbines – Alternative Energy Store
Power your home, farm or business with renewable energy wind turbines
Homeowners and business owners across the country are welcoming winds of change and relying on renewable energy wind turbines more than ever before. With the cost of electricity, oil, and natural gas going through the roof, more people are taking charge of their own energy consumption with renewable energy wind turbines, solar energy systems, hydropower sources, and energy-efficient appliances, offered exclusively at the Alternative Energy Store.


There are so many ways to go green, and the Alternative Energy Store has them all -- renewable energy wind turbines, solar home power systems, mobile power systems, energy-efficient home appliances, LED lights, tubular sky lights, tankless water heaters, and so many money-saving alternatives.... read more


This catalog is currently out of stock.


Please search through our categories for another catalog.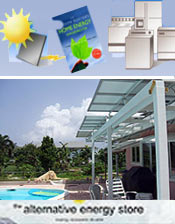 More About Renewable Energy Wind Turbines – Alternative Energy Store:
Other great Alternative Energy Store departments:
Find a wide variety of renewable energy wind turbines, great for providing power to a cabin, medium-sized home, or farm -- find all the leading manufacturers like Bergey and Southwest Wind Power, plus guyed wired and lattice type towers to support your turbine.
Investing in a greener home or business is a serious decision; rely on Alternatives Energy Store for all the information you need -- Thinking about installing a renewable energy wind turbine? Be sure you understand the actual wind speed with help from a quality anemometer. Wind turbines work best in locations where the average wind speed is 10 mph or greater.
When it comes to solar power systems, find everything under the sun -- complete home solar power kits and components to customize your own solar power system for your home, business, RV or boat. Plus, solar water heaters, solar air heaters, solar attic fans, solar lanterns, solar pool heaters, and other innovative solar power supplies.