Best Home Solutions - Whatever Works
The best home solutions make your home life easier
There are so many different tools and gadgets designed to make your life simpler, but you want the best home solutions. Whatever Works carries a huge selection of indoor and outdoor accessories that will create a neat, organized and inviting space!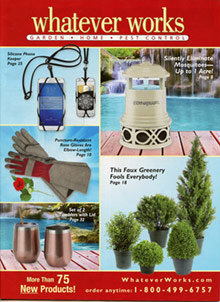 More About Best Home Solutions - Whatever Works:
Other great Whatever Works departments:
Choose outdoor solutions like a patio trash hideaway, patio storage box with wheels, outdoor screen panels, garden bridge, balcony guard, garden seat kneeler, collapsible rain barrel, motion sensor entry light and much more!


There are also tons of indoor home accessories like cleaning tools, a slim rolling cart, pet hair vac, folding bath bench, 3-way shower system, dryer lint removal kit, drain sticks, stair treads, bed bag, drain cleaner and lift and move systems, designed to make moving heavy items a breeze! The best home solutions work for any situation.
Instead of going about daily tasks the hard way, choose the best home solutions to make your life easier, giving you more time for the things you enjoy!