Catalogs.com Departments

News & Articles

Home Programmable Thermostat - SupplyHouse.com
A home programmable thermostat keeps your home comfortable
A home programmable thermostat is a must-have for many homeowners. Not only will your home's temperature be consistently and comfortably regulated, you can set it and forget it! Save money on heating and cooling bills by setting your thermostat at a constant temperature depending on the season.


A home programmable thermostat for year-round use - While you can also find non-programmable thermostats, these programmable varieties will help prevent the constant adjustment that can hike up an electric bill.... read more


This catalog is currently out of stock.


Please search through our categories for another catalog.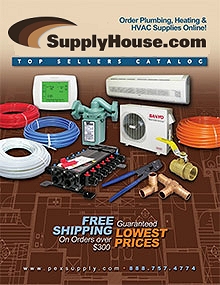 More About Home Programmable Thermostat - SupplyHouse.com:
Other great SupplyHouse.com departments:
Choose a comfortable temperature and then let your thermostat do the rest! No more all-day checking and rechecking it -- pick a bill-friendly temperature for various times of the day. You can set a higher temperature at night, while lowering it during the day for warm weather.


Save money on heating and cooling bills - When you're away for long periods of time, a home programmable thermostat lets you keep a comfortable temperature in the home while you're gone. No need to keep it too cool or too warm if no one is there, but a constant level is easier on your electric bill. When you return, you won't walk into a humid or frigid environment. Instead, you'll come back to the same comfort you left behind.
Well-known names for quality products - Choose a home programmable thermostat from Honeywell, White Rodgers, Robertshaw, Lux or Tekmar for quality products that you can count on. Designed to be compatible and complementary to any home, you'll feel comfortable with these reliable brands that provide top-quality construction. Modern and technologically advanced, you're sure to get just the thermostat you need with the choices you'll find here.
SupplyHouse.com has the perfect thermostat for you, in your favorite brand names and styles. Just choose the design most compatible for your home and enjoy all the benefits and convenience a programmable thermostat provides.