Canvas Storage Bins – Space Savers
Store anything in the house with canvas storage bins
If you're tired of looking at toys, books and other odds and ends scattered around the house, then it's time to take on your next organization challenge! Keep your closets organized, floors spotless and your home looking neat and clean with canvas storage bins.


Canvas storage bins are perfect for every room in the house. Use storage bins in the kids' rooms to keep toys and clothes organized, in the family room to store books and magazines, and in your home office to keep papers and files in order.... read more


This catalog is currently out of stock.


Please search through our categories for another catalog.


- or -

Shop for canvas storage bins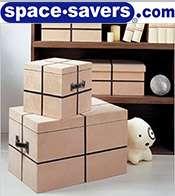 More About Canvas Storage Bins – Space Savers:
Other great Space Savers departments:
Made with natural canvas shells, canvas storage bins come in different shapes, styles and sizes. Carrying these storage bins are easy thanks to cut-out handles or stylish stitched-on handles that make moving storage items from room to room effortless.
Canvas storage bins are easy to set-up and put away, giving you more time to take care of more important things. You'll be amazed at the large capacity of these storage bins. Choose from multi-colored or natural, these bins are made from heavy cotton canvas materials.
Clean up is a snap with canvas storage bins that hold everything including socks, games, blankets and stuffed animals. Organizing you home is easier than ever, when you use durable storage bins that store anything in the house or office.