Catalogs.com Departments

News & Articles

Dinnerware Serving Pieces - Classic Hostess
Dinnerware serving pieces are great for presenting meals
With the right dinnerware serving pieces, you can serve any meal in style.


All the dinnerware serving pieces you'll need - Butter dishes, chargers, cups, saucers, soup bowls, salad plates, dinner plates and dessert plates are just some of the pieces you'll find here. Not just for dinner, you can serve an elegant meal anytime.



Choose the style you like - Find dinnerware items in styles that match your kitchen and home.... read more


This catalog is currently out of stock.


Please search through our categories for another catalog.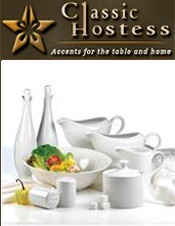 More About Dinnerware Serving Pieces - Classic Hostess:
Other great Classic Hostess - DYNALOG ONLY departments:
Primavera, Provence and Chantilly offer different looks depending on your personal style, whether it's classic, modern or traditional.


Perfect for meals of any size - Small serving dishes and chargers work for intimate meals, while tiered plate servers and four-section dishes hold food for larger parties. Coordinate by selecting dinnerware serving pieces from the same family or mix and match for an eclectic look.
With dinnerware serving pieces from Classic Hostess, dinner, dinner parties or any meal will be a beautiful occasion.