Catalogs.com Departments

News & Articles

Eco Friendly Furniture - Stacks and Stacks
Find stylish and elegant eco friendly furniture
Are you looking for a way to make your home a little greener? With chic eco friendly furniture from Stacks and Stacks, you donít have to sacrifice style and comfort to be environmentally conscious.


From adding small touches to your home with cool bamboo rugs to stylish and contemporary dining tables and chairs, youíre sure to find an added, chic touch to your home with this wide selection of eco friendly furniture.


... read more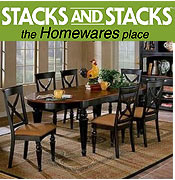 More About Eco Friendly Furniture - Stacks and Stacks:
Other great Stacks and Stacks departments:
Reduce your carbon footprint with lovely eco friendly furniture! From functional and unique environmentally friendly furniture to sofa tables, you can add a great touch to virtually any room! Browse a large variety of eco friendly furniture today!
Whether youíre interested in natural and unique looking bamboo furniture, or youíd like a more modern, urban look, youíll enjoy a number of the various furniture pieces offered! A buffet with hutch is a great addition to your kitchen, while a bamboo fountain will add a relaxing and beautiful touch to your room.
If youíre trying to become more environmentally conscious and are looking for creative ways to lessen your carbon footprint, eco friendly furniture is a stylish and cost effective way to do it! Donít settle for cheap imitators, browse a large variety of furniture made from reused and renewable materials.