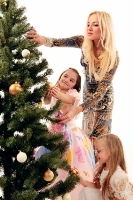 Throw a memorable Christmas party for your family.
Are you thinking about holding a Christmas party? This is a great holiday to gather other families together. If you are Christian and religious, Christmas is one of the high points on the Christian calendar. It will have great meaning when you, your friends and family celebrate it together.

Choosing a Date
The key to holding a Christmas party is planning it ahead of time and announcing it early. Decide in November if you want to hold a Christmas-themed party. Anytime after Thanksgiving would be ideal to hold a Christmas-themed party. There are many family members and friends who would enjoy going to a Christmas family party that was earlier in the season, before things get too busy. One of the benefits to holding your party before December 15th is that you have a stronger chance of just about everyone attending.

A Christmas Tradition
Christmas parties have a tendency of becoming an annual thing. Many people that wind up throwing a Christmas party simply fall in love with the beauty of the season and how festive and merry people are. Some Christmas parties seem to get out-of-control ? like the office party where someone might wind up wearing a lampshade. But a family Christmas party is always warm and welcoming, and you know that you are going to have a great time.
~
Welcome Santa
When thinking of Christmas party ideas for families, a fun thing to consider is a visit from Santa. Even if your children are older or don't fully believe in the big red guy, they may get a big kick out of it. Just about any male family member or friend would be thrilled to play Santa for a brief time. Give the children some small gifts, like Christmas ornaments or other fun toys that Santa can pass out. Santa can also greet the adults. Just remember to have Santa leave the house discreetly to change back into his regular clothing before re-joining the party.

Delicious Delights
There is so much delicious traditional Christmas food that the hardest thing about planning the menu will most likely be narrowing down what to serve! An easy family Christmas party menu could include lots of yummy Christmas cookies and cocoa for the children, and spiced wine and appetizers for the adults. Or, you could do a traditional buffet-style menu. It would be a very nice touch to give your guests Christmas cookies to take home.

Christmas Trees
One of the greatest Christmas party ideas for families is a tree-trimming party. Invite your guests over to trim your Christmas tree. This may be too much with a large crowd ? but if you have less than 20 or 30 people, this could be a lot of fun. Remember that some of your guests will really get into decorating the Christmas tree and other guests will simply enjoy the party. You'll also have a fully decorated tree at the end of the party.
Christmas parties for families are a lovely tradition to start. They are a wonderful way to bring your friends and family members together. Isn't that what Christmas is all about?