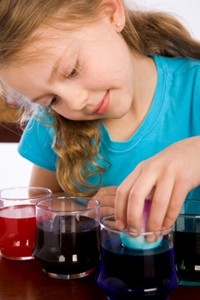 Have fun creating Easter crafts with your kids.
When it comes to Easter crafts for kids, the Web can be a huge resource. In fact, there are so many craft sites out there that it can be a little overwhelming. In order to make your craft planning easier, I've gathered some of my favorites into one article, complete with supply lists and links to complete directions with photographs. Happy crafting!
This has got to be my favorite craft site. The kids and I use crafts from this site all the time – and they have crafts for every holiday, occasion and cartoon character under the sun!
Supplies:
printer
paper
scissors
glue
crayons or markers
This craft can be made into a basket by attaching a paper handle, a puppet by adding a Popsicle stick, or a hat by adding string. Click on the link above for complete directions and a printable template.
If your kids love cartoon characters like Pokemon, Scooby Doo, Spongebob, Blue's Clues, and Veggie Tales, be sure to check out the above link. Print out the easy template, color and cut, and you have some homemade egg holders to display your colored eggs.
Speaking of colored eggs, there are so many ways you can dye your Easter eggs – use tissue paper, crayons, stickers and rubber bands to make uniquely patterned eggs that go above and beyond the typical colored eggs.
Cotton Ball Lamb
Supplies:
black or gray construction paper
glue
white crayon
cotton balls
scissors
googly eyes
This craft is easy to do, even your youngest children. Using the white crayon, trace your child's hand with fingers spread onto the construction paper. The four fingers are the legs; the thumb is the lamb's head and face.
Glue cotton balls over the palm area of the hand for the lamb's body. Glue googly eyes to the lamb's head, or for an easier version, use the white crayon to draw the eyes and a mouth. Cut out the handprint, and there you have your lamb!~
The above link will take you to a whole host of religious-themed Easter crafts that are perfect for kids of any age.
Family Fun is another great Web destination for family crafts and projects. There are so many Easter crafts; here are a few to get you started.
Supplies:
two colors of craft foam
pencil
scissors
decorative-edge scissors
craft glue
googly eyes
jingle bells
pom-poms
These colorful bunnies are easy to make and look absolutely adorable on your kiddo's shoes. Click on the link in the title for complete directions and pictures.
Supplies:
marshmallows
toothpicks
food coloring
scissors 
These little bunnies are adorable to make, and delicious to eat! Check out the link for complete instructions on how to cut your marshmallows into cuddly bunnies.
Supplies:
egg carton
scissors
pink crayon
white headband
a glue gun
Your child can sport his or her own pair of Easter bunny ears with this simple and quick craft.
For more Easter crafts for kids, check out Kaboose or Amazing Moms.