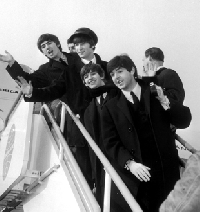 Here are some things you might not know about the most popular band of all time.
They broke up forty years ago, but their names are still instantly recognized by music fans of all ages all over the world: John, Paul, George, and Ringo. The Beatles were a band unlike any other, and their history is filled with interesting facts. Here are just a few!
The Beatles are the most popular and successful band of all time.
The Fab Four, as they were known, produced a record twenty number one songs in the U.S. alone, and more than 600 million copies of their albums have been sold. One week in 1964, all five spots in Billboard Magazine's Top Forty were occupied by Beatles songs, a feat that has never been matched. Their first U.S. television appearance that same year (on The Ed Sullivan Show) was watched by more than 70 million people, over 40 percent of all Americans.
The Beatles caused the removal of certain street signs.
After "Penny Lane" (a song written by Paul McCartney about a street near the area in Liverpool, England, where he and Lennon grew up) became a hit, the signs bearing its name were frequently stolen. The city of Liverpool finally began simply painting the name on the sides of buildings, abandoning the signs completely. Thief-resistant signs were finally installed in 2007.
~
The Beatles' most successful single was written for a child.
"Hey Jude," which spent nine weeks at number one on the charts in 1968, was written by McCartney for John Lennon's son, Julian. Originally called "Hey Jules," it was intended to comfort Julian after his parents' divorce.
A Beatles song is the most covered song of all time.
According to The Guiness Book of World Records, the Beatles' hit "Yesterday" has been recorded by more than 3,000 artists, the most versions of any song in history. "Yesterday," though considered a Beatles song and included on the album Help!, it was actually performed by Paul McCartney, backed by a string quartet. John Lennon, George Harrison, and Ringo Starr did not participate in the recording.
The first Beatles album was recorded in just one day.
When the single "Please Please Me" became a hit, the band's management rushed them into the studio to record an album (which would be given the same name). They recorded all fourteen songs in one day. "Twist and Shout," one of their most memorable hits, was recorded last and done in just one take because John Lennon was hoarse from the day of singing and could not make it through a second run.
Two Beatles' songs pay tribute to mothers.
Both Lennon and McCartney lost their mothers while still in their teens. Lennon wrote the song "Julia" for his mother, and the Beatles recorded it. McCartney's mother is honored by him in one of the band's biggest hits, "Let it Be." Her name was Mary, and she is referred to as "Mother Mary" in the lyrics, written by McCartney.
The top ten albums of all time include four by the Beatles.
Rolling Stone magazine surveyed a large group of musicians, critics, and others in the music industry, asking them to choose the best albums ever recorded. The list is one more piece of evidence of the Beatles' place in history. The Fab Four appear four times in the top ten alone. The Beatles (also known as The White Album) is number ten, Rubber Soul number five, Revolver number three, and according to the experts, the greatest album of all time is Sergeant Pepper's Lonely Hearts Club Band.

References:
The Beatles' Official Website
The Beatles' Induction Page from the Rock and Roll Hall of Fame