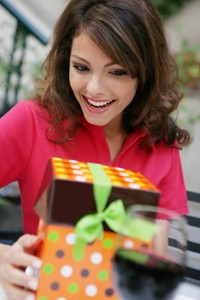 Give them something they don't have!
When you choose a gift to give, the only response that is more disappointing than You shouldn't have is Thanks so much; it's so much like the one I already have. Choosing gifts for the person who has everything can sometimes feel more frustrating than festive. With some ingenuity, however, you can create the responses every gift giver hopes to receive, This is incredible, You're amazing, and just plain old Wow!
Know Your Recipient
In pursuit of Wow, it's important to know why your recipient can be described as a person who has everything. This person may possess the means to gratify his or her wants and desires financially. Equally challenging is the person choosing to simplify his or her life by not accumulating large numbers of possessions or a wide variety of pastimes.
Gift-Giving Strategies
Gift-giving strategies for each everything person will vary but several are worth considering. One category of gift can be called add-to gifts. For a home lover, a sketch or painting of the house or garden captures a favorite place at a moment in time. The same is true of a professional photograph of family members or a beloved pet. Finding someone to render a favorite poem or saying in calligraphy or embroidery is a gift seldom duplicated. It becomes even more meaningful to you both if the calligraphy or embroidery is yours.
While somewhat less strictly artistic, a gift certificate for detailing a prized car or boat is likely to win thanks from the proud owner. Other add-to gifts can include thoroughly researching the best means or specialists to repair or restore a treasured but worn antique, book, photograph or childhood treasure. 
 ~
Experience Gifts
Another category can be called experience gifts. Someone whose life contains great stress may never stop to find out about, but would greatly enjoy, any number of de-stressing experiences once they have been found and organized. For someone going full-tilt full-time, consider a gift of yoga classes, massage, reflexology or meditation. Combining such gifts with a must-do spa day provides a uniquely-welcomed respite from a heavily-loaded day's routine. 
Other experience gifts will appeal to active friends. Again the true gift is that of your time, finding the experience, working out the schedule and making the experience possible. Some gifts like scuba classes for a swimmer, advanced classes for a beginning photographer, computer or cooking classes or a backstage look at a favorite museum or entertainment venue can add to an interest or skill already in process.
Other experience gifts bring a completely unique experience to light. There are many people who have looked with curiosity but have not pursued these ideas: riding in a hot-air balloon, learning to juggle, riding a pogo stick or unicycle, acquiring skill with a spinning wheel or loom, touring an ice-cream or perfume factory, learning to ride a horse as an adult, mastering wilderness-survival skills and training as a falconer. The sky and your imagination are the only limits to an experience gift.
Some of these gifts may seem as far off-the-wall as you dare go. Some may seem out of the question. Your own locale, however, examined with a truly curious eye, will yield experience gifts that suit both your gift recipient and his or her abilities. Mind-blowing is the point of a unique experience gift. And should your recipient feel a bit shy about embarking on what you have chosen, there's nothing like having a friend along to ease the uncertainty of something new. Now you and your recipient can possibly look forward to experiencing the event together.
Honorable Gifts

For those who truly do not wish to accumulate further possessions, another category can be described as in-honor gifts. A financial donation to a recipient's favorite charity honors the supporter and his or her concern for others.
In-honor gifts can include gifts to the recipient's hometown. Consider finding out how to donate a bench, tree, planter or play equipment to a park. Donate rescue equipment to the local fire department or volunteer ambulance service or recreational equipment to the town's after-school-care or senior-citizens' center. Most municipalities maintain such wish lists. 
Gifts for the person who has everything are different from other gifts mainly in the amount of time and energy they may require from the giver. Many gifts for the person who has everything are not so much bought as they are created. The effort, however, will reflect the care you put into it. The person who has everything will surely recognize and appreciate the most unique component of the gift: a caring, thoughtful friend. A friend like that is the real Wow!