When you buy something using the retail links in our posts, we may earn a small commission. Catalogs.com does not accept money for editorial reviews. Read more about our policy
here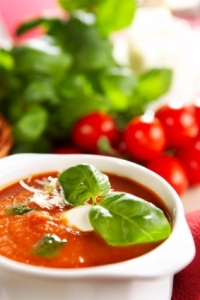 Enjoy these great recipes.
Healthy soup recipes can also taste delicious. You'll love these recipes.
Carrot Soup
This recipe from the Mayo Clinic is stocked with potassium and calcium while remaining low in fat.
Ingredients
10 carrots scraped and sliced
1 ® tbsp sugar
2 cups water
3 tbsp all-purpose flour
ª tsp salt
ª tsp ground black pepper
ª tsp ground nutmeg
4 cups fat-free milk
2 tbsp fresh parsley, chopped
Instructions
In a large saucepan, heat the carrots, sugar and water. Cover and simmer until the carrots are tender, about 20 minutes. Drain the carrots reserving some of the liquid. Set aside.
In a separate saucepan, whisk together the flour, salt, pepper, nutmeg and milk. Cook over medium-high heat stirring constantly until the white sauce thickens.
In a blender or food processor, add the cooked carrots and white sauce. Puree until smooth. Add reserved liquid until you reach desired consistency. Ladle into separate bowls and garnish each with 1 tbsp parsley. Serve immediately.
Broccoli Chowder
This eating well recipe is low calorie, low sodium and low in saturated fat. Add to that all the broccoli and you have a delicious, nutritious soup recipe.
Ingredients
1 tbsp extra virgin olive oil
1 large onion chopped (1 ® cups)
1 large carrot diced (1/2 cup)
2 stalks celery diced (1/2 cup)
1 large potato, peeled and diced (1 ® cups)
2 cloves garlic, minced
1 tbsp all-purpose flour
® tsp dry mustard
1/8 tsp cayenne pepper
3 ® cups vegetable broth or reduced sodium chicken broth
8 ounces broccoli crowns cut into one-inch pieces, stems and florets separated (3 cups)
1 cup grated reduced-fat cheddar cheese
® cup reduced-fat sour cream
Instructions
Heat the oil in a large saucepan or Dutch oven over medium-high heat. Add onion, carrot and celery and cook, stirring often until the onion and celery soften, 5-6 minutes. Add potato and garlic and cook, stirring for 2 minutes. Stir in flour, dry mustard and cayenne. Cook stirring often for 2 minutes.
Add broth and broccoli stems, bring to a boil. Cover and reduce heat to medium. Simmer, stirring occasionally for 10 minutes. Stir in florets, simmer covered until the broccoli is tender, about 10 minutes or more. Transfer 2 cups of the chowder into a bowl and mash, return to the pan.
Stir in cheddar and sour cream, cook over medium heat stirring until the cheese is melted and the chowder is heated through.
 ~
Green Soup
This recipe from healthy eating made easy  is full of heart-healthy spinach and onion.
Ingredients
500 grams (10 cups) spinach
1 large onion
2 medium potatoes
750 ml (3 cups) vegetable stock
Instructions
Simmer the stock gently.
Wash and shred the spinach removing any tough stalks and peel and chop the onion and potatoes. Add all to the stock. Season lightly.
Let simmer for 15 minutes until all the vegetables soften. Blend and serve immediately or chill for 30 minutes and serve.
Black Bean Soup
This delicious recipe from the cooking nook is full of healthy carrots and parsnips as well as an added serving of protein in the form of black beans and chicken broth. Delicious!
Ingredients
2 tsp olive oil
1 small onion, chopped
3 garlic cloves, chopped
2 tsp ground cumin
3 carrots, sliced
3 parsnips, sliced
6 cups boiling chicken broth (or water or vegetable broth)
1 can black beans, drained
Instructions
Heat oil in a non-stick skillet.
Add onions and saut? until they are translucent.
Add garlic and cumin and cook 3 minutes longer.
Add carrots and parsnips and cook 3 minutes longer.
Add boiling broth or water. Stir up the small bits from the bottom of the pot and add black beans.
Simmer for one hour.