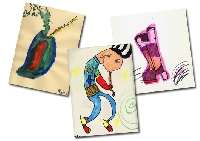 Ideas for decorating your house with unique art
Decorating your home with art is a tricky thing. Everyone has different taste; some love abstract, while others are interested in more classical art. What if you are bored with both or don?t know where to start? Here are several house ideas for decorating with unique art!
Decorate with murals
Wall murals are an exciting way to bring life into a room. Because they are usually colorful and playful, they are ideal for children?s rooms. I know families who have commissioned artists to paint aquatic and jungle scenes in the kids? bedrooms. You could even contact the art department of a local college or university and find out if any art students would be interested; this would be less expensive than a professional artist but would still bring some great art into the home.
If you don?t want to spend the money or time hiring a painter, you may want to consider using pre-made wallpaper murals. These come in a multitude of decorations and have the appearance of being hand-painted, but can be applied very quickly and without a mess.
Photos of your family
One of the most personal ways to decorate your home is to hang up some of your best family photos. You can buy frames with multiple photo slots, which make the photos look like they are in a collage. You can have some of the best photos enlarged to the size of a painting. Consider a few serious photos contrasted with a few fun and silly ones. Photos from family vacations are usually perfect for hanging in the home. You could also have some of your photos changed to black and white for a more dramatic look.
If you want your family photos to look more like true art, consider having the photo put on canvas. This will make the photo look like a painting but will feature you and your loved ones.
~
Your little artists
If you have children, you don?t need to worry about house ideas for art ? you have artists living with you!  When your children bring home art projects from school, frame them or display them somewhere visible in the home rather than putting them in a box or just sticking them on the fridge.
If your kids don?t love the art they are creating at school, there are plenty of at-home art activities you can do with them. If they are younger, you can help them make a painting or drawing and pick a place in the house to display it together. It will be much more exciting for them to see it hanging in the home like a piece of work from a regular artist! And you can always update the art when they bring home new masterpieces.
Start an art wall
My next-door neighbors are quirky and artistic. They travel often and frequently have many out-of-town friends over, so they began to use one of their white walls in a common area as a place where any visitor can sign or decorate. It started off small a few years ago, but it has now been signed by hundreds of friends, family members, and even a few celebrities.  
Friends have dipped their hands or feet in paint and made prints on the wall. Guests have written significant quotes and made unique drawings. Family members have hung up significant pictures on the wall. It is like a huge, open scrapbook and guestbook that is a true joy to look at and participate in as a guest, and it?s got to be fun for them to look at each day. Find a wall that you wouldn?t mind using for this, such as one in a game room or casual den, and paint it white if it isn?t already. Encourage your guests to sign it or draw on it with permanent markers or paint. Before you know it, you will have some unforgettable art on your wall! If you get tired of it, you can always paint over it. The only downside is that you can?t take it with you if you move!
The next challenge? Choosing art for your office!