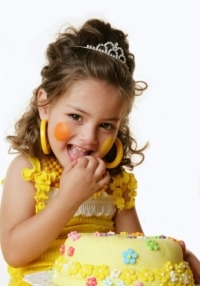 Treat your daughter like royalty.
Little girls are enraptured with everything beautiful; sparkly dresses, tiaras, and shoes delight little women of all ages, and throwing a princess party for the royal beauty in your family will be sure to put a smile on her face.
Royal Invitations
Throwing a princess party is easy and fun. First, buy or make beautiful invitations fit for royalty. Roll your invitations up in a scroll, and tie with a pink ribbon. Make glass slippers, magic wands, tiaras or other shapes from cardboard, and decorate with glitter and ribbon. Be sure to send your invitations in the mail for a formal feel.
For an added royal touch, purchase a wax seal kit, and close each envelope with an official-looking stamp from the castle. Start each invitation with "The King and Queen would like to invite you to the castle to celebrate a party with Princess ______," and insert your child's name.
Inside the invitation, ask each guest to wear her fanciest dress, and have a trunk full of dress up clothes, costume jewelry, and accessories for the girls to go through and add to their outfits when they arrive.
Magical Decorations
Decorate your home with strings of small, white Christmas lights for that "magical" look. One of the best princess party ideas is to adorn the guest of honor's seat with a pink satin cushion and pink satin ribbon to make her feel special.
 ~
Fun and Games
Have princess-themed crafts such as tiaras to decorate or jewelry to make. Cut cardboard in pieces long enough to be formed into a circle that will fit on everyone's head. Cut triangles on one side to resemble a crown, and let the kids decorate with "jewels," crayons, markers and glitter. Have a contest for the fanciest crown, and give a prize, such as dress up shoes or costume jewelry. To make jewelry, kits can be purchased from the local department or craft store and come complete with beads, jewels and other materials required to make beautiful necklaces and bracelets your guests will be able to take home.
Put a spin on face painting by having the princesses sit at a table and do their "makeup." Provide a small amount of lipstick, blush and eye shadow for each girl, and let her have fun making herself beautiful. Check with the other parents to be sure that this is all right. Although some may object, most will be fine with the idea because the cosmetics are in the spirit of fun and will wash off. After all, one of the most exciting princess party ideas is to allow the guests to look the part.
One of the greatest games for a princess party is "Pin the Kiss on the Frog." Simply draw a picture of a large frog on a piece of green Bristol board, and cut out the shape. Cut out eyes from a piece of white Bristol board and glue them on. Finish the frog by drawing on a mouth and nostrils, and tape or pin the frog up on the wall. With a bright red lipstick, paint each girl's mouth, put on a blindfold, and then point her in the direction of the frog. The girl who lands the kiss closest to the mouth wins a prize.
Try playing "Princess and the Pea." First, read the story to everyone, and then, while the girls close their eyes, place pillows in a circle around the room. Place a ball under one pillow, and then have the princesses sit on each and try to guess which pillow the ball is under. If your princesses find this too easy, replace the ball with a marble. Princess party ideas are easy to come up with and fun to boot!
Food and Favors
For the meal, serve pink lemonade or Kool-Aid in fancy glasses or teacups (plastic may be safest), and let the guests dine on tiny, dainty sandwiches. Decorate the birthday cake or individual cupcakes with pink icing, sparkles and a princess figurine, or if you are not a baker, have the local bakery or supermarket do it for you.
For favors, anything sparkly will do. Fancy hair clips, candy rings or pretty stickers are great princess party ideas, and your guests will love them.
If coming up with your own princess party ideas seems daunting, there are many establishments that cater to these kinds of parties, providing an actual princess to come to your home and have a tea party with the small guests. Tiaras, nail polish, glitter and other fun items, such as crafts, are provided with the cost of the party. Imagine the look of delight on your little one's face when she opens the door and there stands a real life princess. Don't forget your camera!