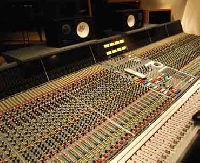 Record your very own hit from your computer
Interested in recording your own song?  Making your very own hit?  Or perhaps you just want to record a simple jingle.  Whatever your goal is, you've decided to try recording your music.  Thankfully with all the technological advances, it is now easier than ever to record a high-quality song on your own. No worries about spending hundreds of dollars on equipment you don't really need, or finding an extra room to store everything in.
The personal computer with audio software has become a great tool for many different types of recording, and there are just a few simple things you can do to move towards having your own little recording studio, without all the space and cost.  Here's to get you started recording your music.
Speakers:
Most computers already have speakers, but if you don't feel like yours are good enough or that you'd like more settings for your speakers go ahead and buy some new ones. You might want to get yourself some USB speakers as they usually have a great, clear sound. There are many different types of speakers, it just depends on what you want. Bass and treble controls?  Subwoofer? Go for it.
~

Microphone:
A lot of computers (especially laptops) now come with built-in microphones, but they aren't really made for recording your music. They don't pick up as much sound as you'd want to record a song, so it's a good idea to get an external microphone for your recording purposes.

Recording Software:
When it comes to picking out recording software, it's really up to you and how fancy you want your program to be. This software can range anywhere from free to hundreds of dollars. For free software, try Audacity. For a wide range of software programs for purchase, try checking out a music retailer, especially a musician supply catalog.
If you just want to record a simple song, the free software will probably suit all your needs.  If you're looking for something more complex, recording software can be found to suit any budget.  These programs will do more than just record your song.  You can manipulate what you've played, add effects, add instruments electronically–really anything you want to make your song exactly what you want it to be.

Record Your Song:
You've come this far, now all you need to do is sit down and start recording your music. Depending on what software you've decided on, your recording experience will be different. Open up your program and start recording! Add effects, change instruments, experiment with the different options your program offers.
Once you're done recording the song, export the song into an mp3 format so that you can send it to your family and friends, post it online, and play it through your music programs.
Luckily recording your music has become easier and easier with new software and technology.  And the personal computer has become a great tool for creating your own personal studio.The more songs you record, the more familiar you'll grow with your recording software, and the better all of your songs will sound. Enjoy!

References:
Record audio on your computer