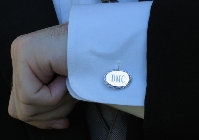 Sterling monogram cufflinks for men come in styles for every occasion
Cufflinks are an elegant final touch on a man, whether he?s heading to the office or a special event. Stylish and elegant, sterling monogram furnishings – like cufflinks – are a personalized gift that come in a variety of designs with subtle details that make each unique.
For centuries, men have used cuff strings, cuff buttons, and later cufflinks to fasten the two sides of the cuff. Today, cufflinks are made for shirts that have button holes at the end of the sleeve with no buttons. They?re worn one of two ways, with two ends overlapping in ?barrel-style? or ?kissing? with two sides pressed together. The latter is the more popular style.
When cufflinks are worn so that both sides of the cufflink are visible, the most visible side is larger and often monogrammed. Depending on the surface area, you can monogram one to three letters on a cufflink. The first set of engravable cufflinks traditionally has the man?s initials, but other options include abbreviations for a place, sports team or company.
Sterling monogram cufflinks are popular gifts in a number of settings. Companies give them as corporate gifts; wives give them as anniversary or birthday gifts; and wedding couples give them as gifts to the groomsmen to wear on the big day. You can find cufflinks made from leather, silk, gold or other metals; sterling silver is a versatile, timeless choice.
~
For many, the most meaningful gifts are those that are personalized, but this is not a new sentiment. In fact, jewelry, pottery and weaponry from ancient Rome were engraved as gifts and displayed in the home of the recipient. A monogrammed gift signifies that an object is special, made just for the recipient. Traditionally, a monogram is composed of two or more letters interlaced.
Sterling monogrammed cufflinks for men come in four basic shapes: circles, ovals, squares and rectangles. The details that make a set unique include the font and size of the monogram, small embedded jewels and the simplicity of the overall design. This small accessory can express a man?s personal style whether he dresses modern, casual or with a creative flair. You can find wide selections of styles and price points at men?s online fashion shops.
Monogrammed cufflinks are more than a novelty. Wearing them can boost a man?s professional confidence and sense of style. He may put a little more thought into pairing his shirt, slacks and shoes to create a complete, well put-together look. A woman giving them as a gift for her man can smile knowing he?ll think of her every time he puts them on.
Practical and ornamental, elegant cuff links are a fun, romantic and thoughtful gift that he may someday pass down to the next generation.

References:
The New York Times: New Cuff Links Reflect History of the Button
Washington Post: What You Wear Reflects Wear You?ll Go