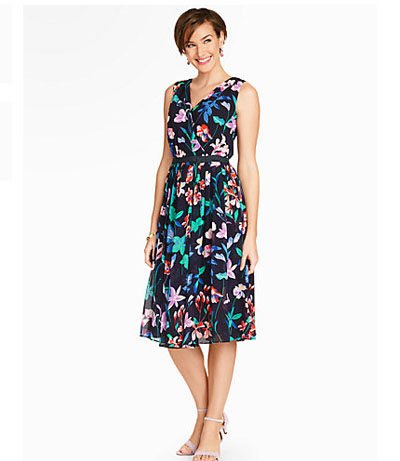 No more wondering when Spring fashion starts with these seasonal tips
Trying to stay on top of trends is like chasing a wave ? as soon as you catch up to the latest, it?s already gone. Meanwhile a bigger one is right behind you. The retail cycle is always ahead of what today?s weather calls for, so it?s a bit confusing.
After months of bare trees and winter?s dark grey skies, it?s only natural to wonder when does Spring fashion start? When will floral prints and bright, lovely colors fill the racks and our closets? According to the retail industry, they should be on the shelves weeks ? often months ? before the season even begins.
As far as shopping spring trends goes, mavens begin scoping out what?s coming during the runway shows, which begin in New York City in September and continue in October in Paris. Buyers, tastemakers and fashion magazine editors attend these shows and select their favorites. 
After the runway shows, retail orders are placed and trend articles are published. Fashionistas scour media coverage to keep up with their favorite top designers and give their social media followers the heads-up on what?s coming. Finally, consumers can expect to find the hottest, latest styles in stores around January. That's right, the first full month of winter.
~
By the time the Spring equinox arrives, you?ll already hear about fall trends because the Autumn/Winter runway shows begin in February! It?s an endless cycle that can make a gal feel like she?s always out of fashion, but you?re not. Designers, industry pros and fashion lovers are all on the same team. It's just a team that's way ahead of the actual calendar.
The fashion industry must operate about six months ahead in order to account for manufacturing, marketing and the process of moving these trends from stores to closets. So what?s the secret? How does one go from a trend chaser constantly trying to figure out when does Spring fashion start, to an insider?
Keeping pace with the fashion season
There are several advantages to staying on the same page as the retail cycle. For one thing, you?ll no longer go to some stores in July looking for shorts only to find fall sweaters, or vice versa. Plus you?ll be the one rocking the hottest trends long before others finally catch on.
Stores stock their merchandise for those who plan their shopping way ahead of when they need it. End the frustration of searching in vain for a denim jacket in April (when you need it) by shifting your shopping habits to align with that of retailers, who assume we shop for the next season about three months in advance. 
In general, fashion collections tailor to only two seasons, Autumn and Spring. Winter styles are considered an extension of fall and Summer is an extension of Spring. You can begin researching upcoming trends up to six months in advance of the season ? when the runway shows begin. For instance, you get a peak of Spring fashions in September and Autumn trends in March. 
Typically, collections of Spring fashion trends are available in stores a few months before the actual season begins. Retailers that strive to offer shoppers the new trends as early as possible usually keep this schedule:
Spring/Summer styles ? available beginning in January and ending around July
Autumn/Winter styles ? available beginning in July and ending around December
Budget conscious shoppers wondering when does Spring fashion start may be more interested in the big sale schedule, which is also planned out like clockwork. Those happen during peak/early season, so if you catch them you can get current, on-trend styles for a great deal AND actually wear them that day.
Spring mid-season sales ? March
Summer mid-season sales ? July
Fall mid-season sales ? October
Winter mid-season sales ? January
The mid-season sale calendar makes more sense, but it?s a short window and supplies in individual sizes go fast, so it?s still wise to plan.