Catalogs.com Departments

News & Articles

Equipment for Presentations - Trainer's Warehouse
Equipment for presentations helps to make them professional
Never be unprepared again for an important presentation! Having the right equipment for presentations ensures that your audience will be attentive and hear what you have to say, even members in the back row.


By having suitable props and pointers, you'll keep your audience focused on you, whether you're speaking in a lecture hall, auditorium, classroom or conference room.... read more


This catalog is currently out of stock.


Please search through our categories for another catalog.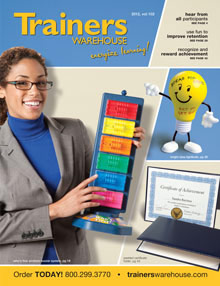 More About Equipment for Presentations - Trainer's Warehouse:
Other great Trainers Warehouse departments:
Amplifiers help project your voice all the way to the very back so no one has to miss a single word. Equipment for presentations makes your job easier so that you can concentrate on the important points while not being distracted.


A big part of a successful presentation is being prepared before it starts. A flip chart flat bag, big tubes, markers and easels are just some of the items you might need for traveling and setup. Equipment for presentations make it easy to find what you need so you can avoid awkward pauses while searching for information. Use fun props as way to engage your audience and keep them interested.
Trainer's Warehouse has a variety of equipment for presentations that help you prepare and present, ensuring a smooth talk that your audience will remember.