Casino Prom Theme - Prom Wishes
A casino prom theme will hit the jackpot
If 21 is the lucky number, a casino prom theme is the perfect bet. Prom guests don't have to gamble, but they'll have a great time in this festive atmosphere. Prom Wishes provides all the casino decor and accessories you'll ever need for a casino night prom that they'll never forget.


No losers here! Everyone's a winner with a casino prom theme.... read more


This catalog is currently out of stock.


Please search through our categories for another catalog.


- or -

Shop for casino prom theme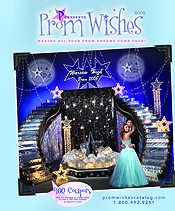 More About Casino Prom Theme - Prom Wishes:
Other great Prom Wishes departments:
Decorate with foam dice, giant playing cards, Vegas nights banners and a variety of fun casino games. Huge Mylar balloons shaped like hearts, clubs, spades and diamonds add to the festivities, while dangling dice and card suit decorations will make anyone think he's hit the jackpot.


This may be the most fun prom guests have ever had. Take their pictures and place them in casino prom theme photo cubes or frames. Multi-colored flashing or foam dice will amuse and entertain; they make great favors for prom goers to carry home and remember this special night. Every guest is lucky at this prom!
What could be more enjoyable than a cool casino prom theme, perfect for transporting guests to the bright lights of the Vegas strip, without ever having to leave your own city.