Catalogs.com Departments

News & Articles

Fourth of July Fun - Century Novelty
Fourth of July fun includes patriotic party supplies and accessories
Create your own Fourth of July fun with supplies and accessories that are red, white, blue and patriotic all over! This Independence Day will be one you'll never forget when you have fun party supplies on hand that will make for one fantastic party.


If you're looking for patriotic items that will set your Fourth of July fun off, then Century Novelty has just what you need.... read more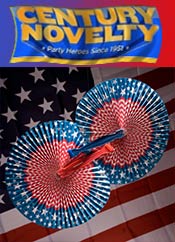 More About Fourth of July Fun - Century Novelty:
Colorful supplies include crepe streamers, flag bunting, patriotic pinwheels, flag picks, folding fans, fringe wands, poly leis, key chains and much, much more! Kids will love star bubble bottles, patriotic rubber ducks, hand clappers, gliders, woven bracelets or star bead necklaces.


Fourth of July fun isn't complete without Uncle Sam! Adult costumes as well as stovepipe hats, jumbo patriotic hats, skimmer hats and more are full of red, white and blue fun. Other accessories you'll find to celebrate July 4th include flying discs, gift bags, tableware, food trays, table covers, napkins and colorful centerpieces. Way before the fireworks start, you'll have a beautiful display going on!
Make your own Fourth of July fun with dazzling and unique accessories that are full of patriotic excitement.