Catalogs.com Departments

News & Articles

Halloween Party Things - Century Novelty
Halloween party things make for spooky October fun
Get ready for a night full of witches, goblins, ghosts and a ton of fun with Halloween party things! Your party can be as spooky, creepy or scary as you like, with lots of excitement thrown in.


Create the perfect atmosphere with Halloween party things like tombstone cutouts, spider webs, door banners, yard signs, confetti, centerpieces, cauldron sets, skeleton flamingos and much more.... read more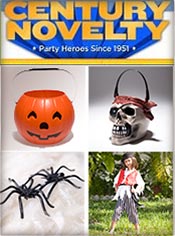 More About Halloween Party Things - Century Novelty:
Turn your home into a haunted mansion and let the fun begin! Little vampires and princesses will have a fantastic time playing party games like pumpkin ring toss, Halloween golf and cards.


Serve snacks and drinks on Halloween tableware that party guests will love. Halloween character goblets, skull drinking cups, pumpkin cups, witch drinking straws, pumpkin plates, napkins, table covers and spider web runners are just some of cool Halloween party things you'll find from Century Novelty. Your next Halloween party is sure to be a hit with all of the favors, decor and accessories you can get to turn your home into the spookiest (and funnest!) party place ever.
If you need Halloween party things for one cool bash, you'll find everything you need right here to create a creepy good time for everyone!