Catalogs.com Departments

News & Articles

Prom Favor Ideas - Anderson's Prom
Prom favor ideas ensure a fun prom night for all
What's a prom without fun prom favor ideas that will make sure prom night guests look back with fondness on this special evening long after it's over.


With so many different prom favor ideas from Anderson's Prom, you may have a hard time deciding which ones to get! You can choose from candles, acrylic or metal key tags, prom pins, lanyards, mint tins and deluxe playing or poker cards.... read more


This catalog is currently out of stock.


Please search through our categories for another catalog.


- or -

Shop for prom favor ideas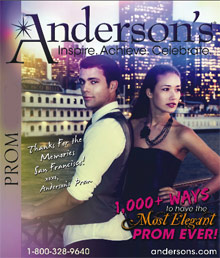 More About Prom Favor Ideas - Anderson's Prom:
Other great Anderson's Prom departments:
Customize your favors with your prom theme and design to personalize them just for your prom guests. This added touch makes sure your favors are truly unique!


Personalize your prom favors with your unique photo, capturing your memories of prom night. Photo prom favor ideas include photo travel mugs, photo key tags, photo albums and picture frames to hold these beautiful photos for a long time. Select favors that fit into your prom night's theme and use your creativity to make candles, napkins and glassware special to your individual prom.
Long after prom night is over, prom favor ideas provide keepsakes that guests will enjoy looking at time and time again.