Catalogs.com Departments

News & Articles

Prom Night Themes - Anderson's Prom
Prom night themes provide a wealth of fantastic ideas
Plan an unforgettable evening with a huge selection of prom night themes sure to make guests have a wonderful time!


It's prom time again! What better way to get into the spirit of awesome party planning than by checking out these cool prom night themes from Anderson's Prom? You'll find themes featuring designs and accessories specific to Hollywood, fairy tale castles, sea adventures, elegant places, exotic locales and more! Just choose a theme and everything you need to turn any location into a night of magic is included.... read more


This catalog is currently out of stock.


Please search through our categories for another catalog.


- or -

Shop for prom night themes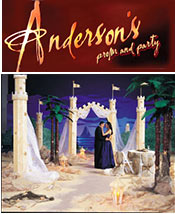 More About Prom Night Themes - Anderson's Prom:
Other great Anderson's Prom departments:
Prom guests won't soon forget a starry night filled with beautiful decorations. Wire structures resembling European landmarks, city scapes, lighthouses and lanterns will add to the decor. Prom night themes cover ideas new and old! Don't forget important little details like crazy stars that you can hang all over a school gym, or grass mats and leis for a Hawaiian theme.
If you're looking for ideas, then prom night themes provide you with a ton of cool themes that you can try. Make this prom a one-of-a-kind event that guests will love.