Catalogs.com Departments

News & Articles

Two for One Special - Current
A two for one special is a great way to get added value
Now you can get twice the value for one price with the great selection of two for one special deals at Current! Everyone loves a buy one get one free deal so get ready to enjoy spectacular savings on a variety of cool and unique items.


Enjoy instant savings with a two for one special on fun products and accessories like circle alphabet stickers, recipe cards, floral note cards, list pads, birthday gift wrap, bright color tissue paper, spring raffia, memo pads, mini treat boxes, stationery pads, vinyl clings, bows, seasonal stickers and much more!



Perfect for scrapbooks, kids' projects, kitchen organization, gift wrapping, home decor, personal organization and all-around fun activities, a two for one special deal offers you twice the fun at one low price.... read more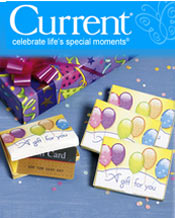 More About Two for One Special - Current:
Now you can choose your favorite products and buy one and get one free!

Smart shoppers will enjoy the added savings and value they find with any two for one special, so get ready to take advantage of these incredible offers perfect for anyone who loves a fantastic deal!