Catalogs.com Departments

News & Articles

Discount Beauty Items - Soft Surroundings Outlet
Discount beauty items offer quality products for less
When you want affordable cosmetics and beauty products, choosing discount beauty items is smart. Soft Surroundings Outlet has a large selection of beauty supplies that will keep you lovely from head to toe.


You don't have to pay high prices for beauty supplies that do what they say. Instead, try discount beauty items such as concealer, mineral powder, tinted moisturizer, correction cream, day cream, night cream, makeup primer, face serum, enzyme peel, toner, facial cleansers and so much more.... read more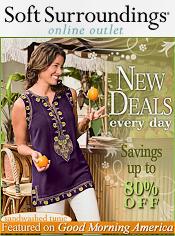 More About Discount Beauty Items - Soft Surroundings Outlet:
Other great Soft Surroundings Outlet departments:
Now you can have an enviable complexion at an affordable cost!


Besides the quality discount beauty items you'll find here for your face, there are plenty of other products that will keep your skin beautiful all over. Try foot cream, milk baths, foot compresses, body peels and skin buffs for smooth skin that's baby-soft to the touch. Cosmetics like mascara, eyeliner, eyeshadow and tools are also available, all at prices that are easy on your wallet.
With such a great variety of discount beauty items, no one should have to pay full price to be her beautiful best.