Catalogs.com Departments

News & Articles

Mirror Snowboard Goggles - Snow Shack
Mirror snowboard goggles look great while shredding
Look great no matter what your personal style is with mirror snowboard goggles that are high-performance designs to match your personality.


Sleek and minimalist your style? Or do you go for more extreme designs? Either way, Snow Shack has the perfect mirror snowboard goggles for you while shredding or skiing. Lightweight goggles don't hinder your movements or take your focus away from your activities.... read more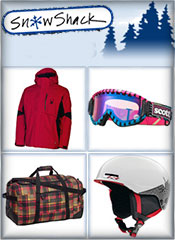 More About Mirror Snowboard Goggles - Snow Shack:
Other great Snow Shack departments:
Just slip them on and forget about them while they protect your eyes and add some flair to your slope attire.


Men, women and children all need the right goggles for snowboarding. You'll find a cool selection of mirror snowboard goggles perfect for anyone, from mirror sequin designs perfect for women, while kids will go wild for playful frames. Interchangeable straps make it easy to switch your style up whenever you like!
Whatever wintertime activity you use them for, mirror snowboard goggles add style to your performance eyewear for an ultra cool look on the board.