Catalogs.com Departments

News & Articles

Paper Wedding Invitation - PaperDirect
Find a customizable paper wedding invitation
Before you've tasted the cake, said yes to the dress and planned the menu for the reception, it's important to choose a quality paper wedding invitation. From unique wedding invitation designs to classic, floral wedding invitations, a customizable paper wedding invitation from PaperDirect can set the style and tone of your wedding.


Make your wedding invitations as distinctive as you are.... read more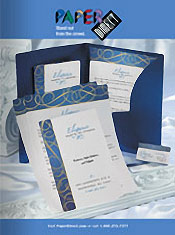 More About Paper Wedding Invitation - PaperDirect:
Other great PaperDirect® departments:
If you plan on having a unique, themed wedding, you can browse a large selection of themed wedding invitations that will fit the originality of your special day. From formal, holiday weddings to casual beach weddings, you're sure to find the perfect paper wedding invitation on the easy to use website.


Don't settle for expensive, low quality wedding invitations from unreliable sources. Find a high quality, affordable paper wedding invitation today! Browse a large selection of styles that include modern, classic and layered custom invites that will have your guests admiring your paper wedding invitations for months to come.
It's important to add your own, personal touch to your wedding invitation. Don't settle for cookie cutter styles that your guests have seen over and over again! Find a paper wedding invitation that allows you to print your own wording and format.