Catalogs.com Departments

News & Articles

Personalized Party Invitations - PaperDirect
Personalized party invitations for every occasion
If you're planning the perfect party, it's important to plan the menu, find the perfect décor and find the perfect personalized party invitations. Whether you're planning a formal, black tie dinner party or a casual, birthday shindig for friends, Paper Direct has the right invites for you.


Browse an extensive selection of personalized party invitations that allow you to choose your own format and wordings.... read more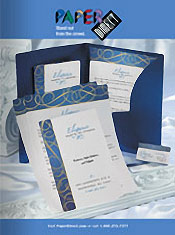 More About Personalized Party Invitations - PaperDirect:
Other great PaperDirect® departments:
From cool, beach themed invites to classic, Christmas party invites, you're sure to find the invitation that will signal the beginning of a memorable night!


Are you throwing a baby shower for a glowing mommy-to-be? With a number of soft pastels and baby themed party invitations to choose from, these personalized party invitations will definitely coordinate with your entire event!
Are you in the midst of planning a fun, kid-friendly party? Start with personalized party invitations. You can choose from a number of fun party invitations for kids without breaking the bank! Save money for more important things...like the cake!
The invitation sets the tone and mood to every party. When your guests receive the invitation to your party in the mail, make sure you're giving them the right impression to your party! Find a number of party invitation ideas on the easy to use website today.