Support Plus
The best support hosiery, foot care and comfort shoes
The Support Plus Catalog brings you the medical hosiery you need in order to experience the Support, Comfort and Independence you deserve.
Special Offer from Support Plus:
Get 15% off all purchases
Enter the Coupon Code -catalogsdotcom - at checkout on the Support Plus website.
(offer expires: 11-08-2014) Click to report savings error
Click below to go to Support Plus departments
What's Inside:
SupportPlus - The Support Plus catalog is your go-to source for high quality medical compression hosiery, as well as an affordable variety of comfort footwear, foot care products and innovative daily living aids that are designed to help you maintain a healthy and active lifestyle, at any age. You'll find the best support hosiery from Jobst and other premium brands on top of a wide range of supportive wear, with bracing garments and posture supports that promise to provide the support that your body needs, in the spots where you need it the most.



Best support hosiery & socks - Find a full range of medical legwear for men and women including surgical stockings, graduated compression hose and compression stockings, knee highs and more. Find therapeutic socks for all walks of life, from diabetic socks to Jobst support socks, athletic moisture wicking styles to extra cushioning, non-chafing varieties, plus dozens of other revolutionary sock styles from the leaders in the foot care industry. Support Plus also features accessories that will help you don your stockings easily and effortlessly, and products that will keep your hosiery clean, fresh and long lasting…not to mention slip and static free.



Footwear & foot care products - SupportPlus offers comfort and relief for those suffering from various foot conditions, as well as the perfect fit for those seeking a high quality, comfortable shoe for work and every day. Shop for footwear and foot care solutions by brand or by condition from a complete list of common foot ailments ranging from arthritis and arch pain to calluses and corns. Whether you are dealing with diabetes, require wide width/extra deep shoes, or battling hellish heel pain, you'll find the perfect solution for any and every pedestrian predicament.



Daily living aids - Continue to enjoy an active and independent lifestyle with a collection of daily living aids that can help you tackle your most troublesome activities, room by room. From walkers to cushions, bathing to sleeping aids, the SupportPlus catalog delivers items that will restore confidence with every use. Choose from hearing and visual aids, grab and grip devices, memory and mobility based products, handy bed/bath and kitchen household helpers that will make every day life as easy as it ever was.
You can always trust the Support Plus catalog to provide you with the largest selection of medical support hosiery in the world. Experience the best support hosiery as well as a wide variety of health-related products, foot care items and aids that have the power to drastically improve your daily quality of life, from the foot care specialists at SupportPlus.
---
You might also like these Health & Fitness catalogs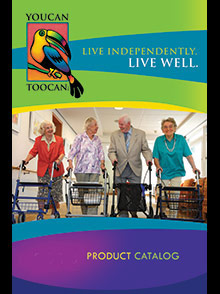 Youcan Toocan
The most helpful reading modification aids, plus grabbers, reachers and more independent living aids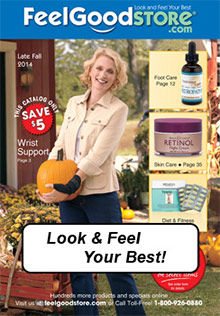 Feel Good Store
Trust the Feel Good Store to deliver a variety of healthcare and wellness essentials to your door!
Free Shipping