4Wheel Parts
Performance truck parts for your Dodge, Ford, Toyota and other 4 wheel drive trucks
4Wheel Parts has the four-wheel drive truck accessories and parts you need.
What's Inside:
Dodge truck parts - Keep Ram, Dakota or Durango Dodge trucks running well on or off road with quality aftermarket Dodge truck parts designed to fit and designed to perform.



Toyota truck parts - Whether you need to replace the clutch or want to reduce engine wear and tear with a performance cooling system, they have the Toyota truck parts you need to keep your Highlander, Tacoma or other Toyota truck or SUV running in peak form.



Nissan truck parts - Keep your XTerra, Pathfinder or Armada in top form with parts and accessories designed for your Nissan truck or SUV. From Dick Cepek tires and wheels to an Auburn Gear electronically controlled traction enhancing differential, they have the parts Nissan owners want for their favorite vehicles.



Ford truck accessories and parts - Add horsepower and torque to your Explorer, F-250 or other Ford Truck with a B & B performance exhaust, or enhance fuel burn and efficiency in your Bronco or Excursion with Nology Hotwires. If you're looking for replacement or performance Ford truck parts, 4Wheel Parts is the place for you.



Chevrolet truck parts - Upgrade your Chevy's suspension with Bilstein shocks, add a Hypertech ® PowerStat ™ low temp thermostat for cooler running off-road or with a heavy tow load, or choose any of their other replacement or performance truck parts for your Chevrolet Blazer, Silverado or pickup.



Hummer parts and accessories - Take your Hummer to the next level with performance parts made to bring out the best. Add a Granatelli Motor Sports Mass Airflow Sensor Bolt to your H2 or H3 and improve your Hummer's pulling power and response. Or keep it running at its best with a replacement differential, new brakes, or a new set of heavy-duty shocks.



Off-roading upgrades - Take your truck off road and into adventure with their huge selection of Ford, Dodge , Chevy, GMC, Hummer and Toyota truck off road parts. From tough truck wheels just made for mudding to off road lights, filters and sliders, they have everything you need for an awesome off-the-pavement experience.



4Wheel Parts is the place for trucks. Check out their catalog or website for all your Ford, Chevy, Hummer , GMC, Toyota or Dodge truck parts. Whether you need gasoline or diesel truck parts, let them keep your truck running great on and off road.
---
You might also like these Cars, Trucks, Cycles & RVs catalogs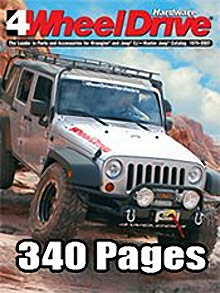 Jeep Wrangler – Four Wheel Drive Hardware
A garage full of Jeep Wrangler accessories and parts for your automobile
Free Shipping