The Metropolitan Museum Of Art
Distinctive and imaginative gifts inspired by The Metropolitan Museum of Art's collections
Browse The Metropolitan Museum of Art catalogue for unique gifts and exceptional collectibles inspired by famous art masterworks, from William Morris designs to ancient Greek and Egyptian art.

Each reproduction and publication is the result of careful research and expert execution by the Metropolitan's staff of art historians, designers, and master craftspeople. Designs are developed with a focus on quality and attention to art-historical scholarship, a Museum tradition for over a century. As always, proceeds from the sale of all products in The Met Store directly benefit the Museum's collection and programs.
Special Offer from Met Museum:
Get $10 off any order of $50 or more
Enter the Promotion Code - K420 - at checkout on The Metropolitan Museum of Art website.
(offer expires: 09-18-2015) Click to report savings error
What's Inside:
History's finest jewelry - Adorn yourself with the treasures of the ancient world. Choose from stunning reproductions of Indian, Byzantine, Greek and Egyptian jewelry in 14K gold set with precious stones. Or select elegant and affordable replicas of jewelry that reflect the finest in Etruscan, European, Russian or Byzantine art.



Elegant scarves and shawls - Accent your wardrobe with lovely silk scarves inspired by famous art work, famous artists and unique patterns from the Museum's collections. The best of ancient and modern art styles are reflected in their rich colors and intriguing motifs. Or add the timeless elegance of a wool, beaded or silk shawl to your evening or daytime look. Each shawl is inspired by a design element from the museum's extensive collection of textiles and images.



Informative art books - Learn about the modern and classic masters with the Met's collection of inspiring art books. From the ancient world, learn about the stylized beauty of Islamic art, the geometric perfection of ancient Greek art, or the rich variety of material and designs in ancient Egyptian art. Pour over the finest examples of Medieval European art, sacred Renaissance masterpieces or the rule-breaking innovations of the modern period.



Reproduction sculptures and figures - Add the beauty of museum quality bronzes and other sculptures to your home or office. The Metropolitan Museum of Art Store offers painstakingly reproduced copies of some of the world's greatest sculptures and statues. Whether you prefer the sleek lines of Egyptian sculptures, the intricate beauty of a Chinese piece, or the classic look of a Michelangelo statue, the Metropolitan Museum of Art offers a chance to bring a masterpiece into your home.



Children's gifts and toys - The Met has not forgotten their youngest patrons. Choose art books for toddlers in study board-book style, special museum publications and other art books for older children, building sets, stuffed toys, play sets and more.



And don't forget William - No shopping trip to The Metropolitan Museum of Art Store would be complete with ordering your very own William the Hippopotamus. Available in plush, ceramic, and other styles, this unofficial mascot of the Met is sure to delight museum fans of all ages. Modeled after ancient Egyptian art objects found in tombs, William is a must-have for everyone who has visited him in New York City - and all who wish they could.



Browse the pages of the Met's catalogue or web site for gifts to delight and objects to inspire. From luxurious Greek, Byzantine, Indian and Egyptian jewelry to their exception collection of fine art books, each item has been chosen to bring the magic of the Met home to you.
---
You might also like these Gifts & Collectibles catalogs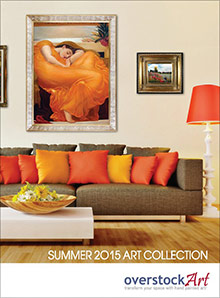 overstockArt.com
Enjoy access to a gallery of world famous artwork, with oil painting reproductions from overstock Art!
20% Off