Key West Key Lime Pie Company
Delicious Key Lime pie, bars and other Key lime treats
Enjoy the authentic taste of Key lime pie, and other tropical Key West gifts when you shop the Key West Key Lime Pie Company.
Special Offer from Key Lime Pie Co:
Get a Free gift tin of Key Lime coolers with your order of $100 or more
Please enter the code - CATALOGS - in the 'Special Instructions for Merchant' spot on the paypal site, to receive your free gift.
(offer expires: 04-27-2014) Click to report savings error
What's Inside:
Genuine Key West key lime pie - A great key lime pie is the ultimate Key West food. Now you can order pies online straight from their bakery in the sunny Florida Keys. Their pies are shipped in a Styrofoam cooler on dry ice to arrive fresh and delicious - and in most cases, packing, shipping and handling is included in the price of the pie.
Chocolate dipped Key lime bars - Enjoy a new taste when you select the frozen goodness of chocolate-dipped Key lime bars. Each bar is a slice of their very own pie; hand dipped in rich chocolate and served on a stick. And like their pies, the bars are shipped frozen and ready to eat.
Key lime cookies - Treat yourself or someone special to the tangy taste of key lime cookies. Choose their original, chocolate, shortbread or cookie straws for a unique taste of Key West. Perfect with tea, as an after school snack or anytime you want to enjoy a taste of the tropics.
Other key west gifts - From tart and tasty candies to lime honey, jellies, marinades and sauces, they browse their selection of unique ways to bring the flavor of the Keys into your kitchen.
Wholesale options - Restaurants and caterers looking for something special will love adding these gourmet desserts to their menus. Choose the complete pies, bars or just the prepared filling to create your own authentic key lime desserts.
Their 100-year-old recipe produces a smooth and creamy pie some have compared to an out of body experience. You'll taste the Florida sunshine and tropical flavor of the Florida Keys in each and every bite.
For authentic key lime pie, Florida is the only place to look. Of all the Florida fruit gifts you could send, a rich and creamy key lime pie or one of their other Key West treats is the one everyone will love.
---
You might also like these Food & Gourmet Gifts catalogs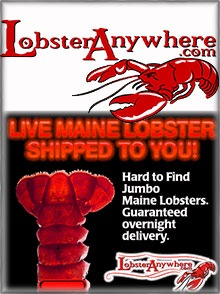 LobsterAnywhere.com
Seafood, grilled lobster tails and more
$8 Off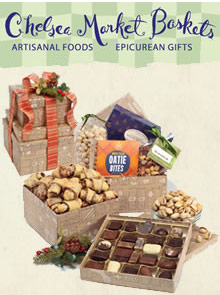 Chelsea Market Baskets
Shop Chelsea Market Baskets online for the perfect NY themed gifts for any occasion!
$20 Off