Penny's Tomatoes
Best tasting tomatoes - Buy Heirloom and Gourmet Tomato Seeds from Penny's Tomato seed catalog
Buy tomato seeds from Penny's Tomatoes, the tomato seed catalog that is every gardener's source for the plumpest, juiciest and tastiest tomatoes.
Special Offer from Penny's Tomatoes:
Get 3 Free packs of seeds with every purchase
Free seeds are to be determined by Penny and may be recognized seed varieties like Ponderosa Red, Pineapple Tomato, Rutgers, Roma Tomatoes, Yellow Plum, Costoluto Genovese Tomatoes, etc.
(offer expires: 07-16-2015) Click to report savings error
Click below to go to Penny's Tomatoes departments
What's Inside:
Penny's Tomato seed catalog - Whether you favor Heirloom tomato plants, Bodacious Beefsteak tomatoes or cheerful Rainbow Cherry tomatoes, Penny's tomato seed catalog will help you plant the seeds to your own prized tomato garden in no time at all. Grow the best tomatoes with ease featuring a wide range of tomato seeds to choose from, featuring all of your favorite colorful, flavorful and tasty tomato varieties.
Buy tomato seeds - In Penny's tomato seed catalog, you'll find a crop of tomato seeds that will produce every color of the rainbow, including red, yellow, orange, pink and miscellaneous tomato varieties that are hard to come by! Your search is over for hard to find exotic seeds and organic tomato seeds that are packed with vitamins and nutrients. Choose from Italian San Marzano and Roma Tomato seeds, Cherry Tomatoes from Argentina, Black Forest Tomatoes from Germany, luscious Heirloom Tomatoes and more. And, score 3 packs of free tomato seeds with every order!
Gourmet tomato collections - Indulge in gourmet tomato collections for your own garden, or share Penny's tomato collections that make the perfect gift for any tomato lover on your gift list. Choose from the Patio Tomato Collection featuring tomatoes of the Cherry variety, the multi-colored and multi-flavored Calico Collection, the Shades of Night Collection showcasing their top selling black and purple tomatoes, or a Surprise Pack picked by Penny herself!
Tomato recipes and tips - More than just a tomato seed catalog, Penny's Tomatoes also brings tomato lovers a tempting variety of hearty tomato based recipes! From tasty 2 Minute Salsas to zesty Tomato Sauce and thick and rich Tomato Bisques, you'll discover a culinary collection of easy recipes that will give you plenty of options for serving up the best tomatoes on the block. Whether you're preparing the perfect sauce or growing heirloom tomato plants from scratch, Penny also shares her top tips, pointers and strategies for no fail tomato growing and planting throughout the seasons.
Buy tomato plants - Now Penny's tomato seed catalog goes a step beyond providing gardeners with the best tomato seeds available in the garden market. New for 2010 - Penny's Tomatoes now features ready to grow Tomato Plants! Step right up and buy tomato plants that come in convenient pre-planted 4 packs. Choose from 5 popular Tomato Varieties and Penny's will plant your Tomatoes for you, just add water and follow the tips that come along with it, sit back and enjoy the harvest.
You say tomato, I say Penny's Tomatoes, for the best tomatoes that have ever tickled your taste buds. Shop the leading tomato seed catalog that puts everything you need to grow the most exquisite and tastiest tomatoes of your own, right in the palm of your gardening gloves.


---
You might also like these Garden - Yard - Pool catalogs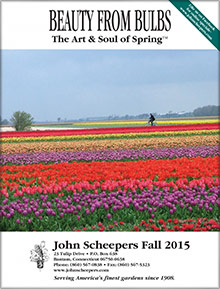 John Scheepers Beauty from Bulbs
Shop the John Scheepers catalog for beautiful flowering bulbs for your garden!

Lilypons Water Gardens
Lilypons Water Gardens features water garden supplies to create and maintain your own ponds and water gardens