Garden Botanika exclusively at Zidle.com
Botanically based skin care products and solutions for all skin types, moisturizer cream, body lotion and paraben and gluten free formulas
Your skin deserves the best in botanical beauty and natural skin care solutions using only the finest ingredients. That's what you'll find in Zidle.com's Garden Botanika catalog. Pamper yourself with botanically based, cruelty-free beauty products and skin care. Now a wider selection of paraben and gluten free solutions!
Click below to go to Garden Botanika departments
What's Inside:
New Nourishing Cleaning Oil! - This lightweight, water-soluble cleanser contains Orange Peel Oil and Rosemary Extract to remove makeup and other surface impurities without disrupting the skinís delicate balance. Age-fighting Olive Oil and Vitamin E help protect from dryness and free radical damage. Does not leave an oil film on the skin, but skin emerges smooth and soft to the touch. Paraben and gluten free! Introductory special only $10!



Skin Care made Simpler. - With so many choices itís hard to know the right routine for your skin. This spring Garden Botanika makes it easier and less complicated. Check it out in their Spring catalog.



Beauty and natural skin care products made from gentle botanicals combined with the best of science - Nature's most soothing elements...essential oils and extracts. Carefully balanced formulas. The latest scientific breakthroughs. With Garden Botanika skin care lines, you'll find natural skin care products that contain none of the "bad stuff" that can irritate skin or actually promote aging. Thatís why all of their newest products are developed to be paraben free!



Advanced skin treatments - Perfect solution to tackle those tell-tale signs of aging and wages war against wrinkles. Their Advanced Anti-Aging Face Treatment improves firmness, overall tone and diminishes the appearance of fine lines and wrinkles. Now available along with their bestselling Skin Rejuvenating Face Treatment and Advanced Anti-Aging Eye Treatment, a natural alternative to Botoxģ. This rich eye treatment contains a patented peptide and an amino acid that helps to visibly reduce and minimize lines and wrinkles. Plus they have other advanced formulas and treatments to help fight back against aging to give you a more youthful appearance.



Custom scented shower gel, hand soap, oils, and moisturizing body lotion - Wrap yourself in the gentleness of botanical infused body care and skin care with the personal touch of a scent you create. Only Garden Botanika lets you select from over fifty fragrance notes to make a unique blend that is distinctly your own in 9 different products.



Please note that this Merchant does not send catalogs internationally. They only ship to US, US Territories, Canada and APO addresses.
---
You might also like these Beauty & Cosmetics catalogs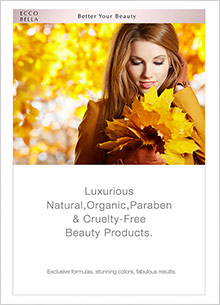 ECCO BELLA
Shop Ecco Bella for eco-friendly cosmetics, skincare and bath products!
Free Shipping