1928 Jewelry
Vintage style jewelry with a modern edge, from 1928 Jewelry
What's old is new again. Make an old school fashion statement with timeless vintage style jewelry for modern girls, from 1928 Jewelry.
Special Offer from 1928 Jewelry:
Get 20% Off your entire order
Plus get Free Shipping on orders of $50 or more.
For 20% Off, enter the coupon code - CAT20 at checkout on the 1928 Jewelry website.
This Discount code DOES NOT apply to sale section items or Alex Nicole that are already marked down and cannot be combined with any other discount codes.
(offer expires: 08-21-2017) Click to report savings error
Click below to go to 1928 Jewelry departments
What's Inside:
Earrings - If you love all things vintage, you'll love 1928 Jewelry's piercing collection of the vintage style jewelry that your mothers, grandmothers and great-grandmothers rocked back in the good old days. From understated studs to dramatic drop and dangle earrings for brides, browse an elegant assortment of vintage earring styles available in your preferred metal color and accented with your favorite stone color, featuring demure drop earrings, classic chandelier styles, clip ons, pearl and hoop earrings that are all the retro rage.


Necklaces - Layer yourself in necklaces that will give you an everyday vintage vibe and modern flair whether you're dressed to the nines or pumping up a plain white tee and jeans. Explore the 1928 collection of necklace styles that range from long to short, bold to edgy, light or layered, with hundreds of pendant necklaces, bib necklaces, cameo lockets, and more statement making antique style jewelry pieces that that will give you a look that is completely off the chain while paying homage to all of your favorite decades.


Bracelets - Brace yourself to explore a cool and classy collection of vintage style jewelry with bracelets that are sleek enough to wear alone, versatile enough to wear piled high on your wrist. Stick to your favorite signature bracelet styles or mix and match from an assortment of bracelet blasts from the pasts, including vintage bangles, stretch, cuff and clasp bracelets, charm bracelets, toggle bracelets, and more retro arm candy styles that are inspired by your favorite eras and fused with all of the latest trends.


More Jewelry - From basic pieces to extraordinary accents, 1928 Jewelry supplements your jewelry collection with a celebrity approved array of antique style jewelry and accessories that mimic the charm of the past while fully embracing what is popular in the present. Choose from vintage cocktail rings, brooches, pins, charms, watches and hair accessories that have made a splash on the fashion accessory scene, yesterday as well as today.
For over 40 years, the 1928 Jewelry Company has created modern replicas of the most beautiful, exquisite vintage jewelry styles ever made, bringing you an affordable selection of timeless antique inspired jewelry pieces that will get you noticed. From simple and sweet earrings to elegant and exquisite necklaces, 1928 Jewelry is your portal to the past, featuring everyday vintage jewelry that will never go out of style.
---
You might also like these Jewelry catalogs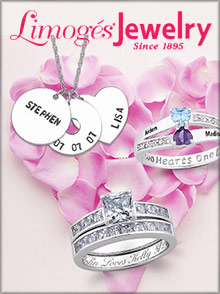 Limoges Jewelry
Exquisite jewelry from mothers rings to wedding bands and affordable birthstone jewelry
Free Shipping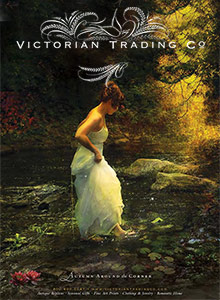 Victorian Trading Co.
Find nostalgic and vintage style in gifts and collectibles at Victorian Trading online
Free Shipping