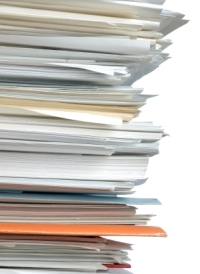 In our 'paperless society,' we can still get buried under the stuff.
When you open your filing cabinet, do you find yourself perpetually flipping through a randomly assorted sea of paper before you finally find the receipt you're looking for? Or can you confidently whip out any paper or file in under three seconds?
Save Yourself from Paper Overload
For many people of the disorganized persuasion, it seems difficult and time-consuming to constantly handle papers to keep them in order. But, as people who appreciate the white space on their desks can tell you, it takes a lot more time to search in circles for a lost paper than it does to organize that paper in the first place.
Wouldn't you like to give a home to all those papers cluttering your desk – business letterhead, important documents, notes and messages – and be able to quickly retrieve them later, all the while enjoying your desk's new real estate? If you want to control your papers and not have them control you, these tips will save you time and stress as well as increase your productivity. 
Make Your Filing Cabinet Work for You
The filing cabinet is your friend; it's not losing your stuff on purpose. If you are normally pretty disorganized, you're not alone. But it's a good bet you've spent hours, if not entire days, of your life just looking for business cards, invitations, company documents, phone messages and other important papers.
You can take back your time if you conduct ongoing paper and file maintenance. Using hanging file folders in a good drawer verticalfile that has either letter or legal orientation allows you to place documents according to their size. Keeping manila folders and labeling supplies, such as those little plastic label holders, nearby will make it easier to quickly create a new file category if needed.
Never Touch a Piece of Paper More Than Once
That probably should be 'twice' for the truly organized-challenged. You have to control the flow before your papers ever hit the filing cabinet in the first place. Once a document comes into your possession, manage it right there. According to "The Complete Idiot's Guide to Organizing Your Life," you need to immediately do one of three things upon receiving a new piece of paper:
1) Take action. That means respond if needed or file it. This is assuming of course that your filing cabinet is properly organized, labeled and just waiting for you to store something in the proper fashion. An action might be to pay the bill, read the memo or respond in some way.
2) Throw it away. This can never be said enough. Learn to throw away or shred junk mail, credit card offers and anything else you really don't need.
3) Pass it on. This is by far the most enjoyable. If the paper can be given to someone else to handle, give it to them immediately so it can pile up on their desk instead of yours.
 ~
Take it to the Cabinet
Streamlining is the key here to effective file management in your drawer verticalfile. You should, as far-fetched as it seems, be able to go right to a file and immediately know what is in it. This is how you do that:
— Start with broad categories and work your way down to the more specific. The hanging file folders live permanently in the cabinet with broad category labels. Manila folders, also neatly labeled, house your subcategories.
— Place your labels all in the same position in the cabinet, meaning either to the far left on each hanging file or the far right. If you do nothing else, this one action alone will reduce your stress levels tremendously.
— Use categories that are neither too general nor too specific. 'Car' is probably too general for maintenance, insurance, loan information, travel bills and gasoline receipts all shoved together. Always move from general to specific in your labeling. Try to avoid a 'Miscellaneous' folder because we all know what happens with those.
— Make sure your categories make sense now and will do so six months from now. Logic goes a long way in grouping like items together. Don't be afraid to refine and revise as you go along.
— If you have a lot of files that only have one or two items in them, you are being too specific. And obviously, if a file is four inches thick you probably need to break it up.
— Alphabetize everything. This is the single easiest way to find things quickly. Some people use a system where frequently pulled items go in front of other files but this can get messy pretty quickly if you're the naturally disorganized sort.
— Use labels that are clearly printed. Printing them from the computer will give you bold, neatly consistent type that's not only more legible but will appeal to your inner Monk.
You might have to take everything out of the cabinet and start a whole new system, or maybe you can work with what's there. Just remember to discard items you no longer need on a regular basis so your cabinet doesn't start looking like your desk again.
Setting up a filing system, whether it's in a lateral file cabinet or a drawer verticalfile, will save you the stress of dealing with mountains of paperwork as well as help you be more productive. And if you take the time to organize your cabinet with an actual workable system in place that makes sense, you'll save yourself hours that could be better spent elsewhere.