When you buy something using the retail links in our posts, we may earn a small commission. Catalogs.com does not accept money for editorial reviews. Read more about our policy
here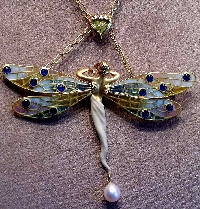 Learn what estate jewelry is and how to identify it.
Estate jewelry is near to the hearts of many jewelry lovers. Defined as jewelry that is previously owned regardless of when the piece was originally constructed, the term is also used to refer to antique and vintage jewelry. Condition, craftsmanship and materials determine the price point of estate jewelry, which varies from affordable to expensive.
Estate jewelry is popular with collectors because it carries a sense of history and respect for craftsmanship. Compared to new jewelry composed of the same metals and precious stones, estate jewelry is significantly more affordable.
Estate jewelry collections include diamond jewelry, estate necklaces, pendants and engagement rings. Before purchasing a piece of estate jewelry, inspect it thoroughly for chips and other flaws to ensure that the price reflects its value.

Varieties of Estate Jewelry
A visit to an estate jewelry shop with an extensive collection would take you on a stroll through some of the most distinct periods in jewelry history including the geometric shapes of the frugal 1930s, and the rich, opulent pieces of the 1950s. A majority of estate jewelry from the late 1940s was made from gold varieties including white gold, yellow gold, green gold, pink gold and red gold.
~
Diamonds and platinum gold are prominently featured in estate diamond jewelry. Worn as evening wear, palladium or white gold pieces set with substantial precious stones are popular choices. A number of estate diamond jewelry collections are from the late 1940s when curves inspired by nature replaced straight lines, and form and functionality were equally important to jewelers.
Going further back in history, the Georgian era, Victorian era, Art Nouveau and Edwardian era, are a few of the most popular periods with estate jewelry collectors.

Popular Motifs
Estate jewelry is representative of the trends of a given era. Popular motifs between the 1940s and 1950s were flowers, leaves, animals – inspired by both exotic and familiar flora and fauna. Insets and plants were common forms in Art Nouveau jewelry, while jewelers in the Victorian Era incorporated themes of love and feminism, as well as death.
Georgian Jewelry (1714-1835)
This period spanned the lives of four kings, King George I,II, III, and IV. Gold and silver set with diamonds, sapphires and emeralds defined the excessive designs of this time. Towards the end of the Georgian era, jewelers created work with semi-precious stones and geometric shapes for a post-revolution middle class seeking to separate its identity from the aristocracy.

Victorian Jewelry  (1837-1901)
Jewelry made during this time was heavily influenced by the fashionable taste of Queen Victoria of England. Amethysts, pearls and garnets set in gold were int he earlier years. Black jewelry came about in the latter half of this period to reflect the Queen's mourning over the death of Prince Albert. Characterized by bold designs on necklaces and brooches, jewelers also introduced a revival of gothic and renaissance styles.
Art Nouveau Jewelry(1895-1910)
Art Nouveau jewelry was born as jewelers rebelled from the formulaic designs of the Victorian era and the growing enthusiasm for mass production introduced by the impending industrial revolution. This period emphasized the value of homemade work and incorporated organic forms and materials like moonstones and enamels.
Edwardian Jewelry (1900-1915)
Jewelry from the Edwardian period is characterized by masterful craftsmanship and the use of platinum, pearls and diamonds. Referred to in France as La Belle Epoque, "the beautiful era", styles from the Georgian era were reinvented with a more feminine twist. Platinum was not a popular metal in jewelry prior to this time, so most platinum estate jewelry can be traced to the Edwardian period or later.
While there's a finite supply of estate jewelry from any given period in history, if you set your sights on a particular era, you'd be surprised at what you can find with a little research. Vintage stores, local collectors, online jewelers and estate auctions are great sources for finding unique, quality estate jewelry. Part of the fun is in the hunt for a piece that speaks to you, regardless of where and when it was made.
References:
Victorian Bazaar
Gleim Jewelers: Valuation