Catalogs.com Departments

News & Articles

Business Appreciation Cards – CardsDirect Christmas
Show clients you care with business appreciation cards
Business appreciation cards are a great way to show clients and co-works how much you care. Any time is the right time to reach out to those you work with to show your gratitude for the time they've spent building solid business relationships together.


You can personalize your business appreciation cards with your own special message or you can select from a variety of pre-printed verses.... read more


This catalog is currently out of stock.


Please search through our categories for another catalog.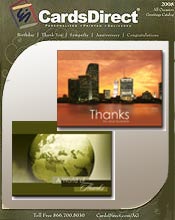 More About Business Appreciation Cards – CardsDirect Christmas:
Other great CardsDirect departments:
In addition, you can also include your company's name, logo and signatures to make each card uniquely distinctive.


Be sure that your business appreciation cards are as unique as your clients. Build valuable, long-lasting relationships with associates by presenting business cards that are classic, elegant, fanciful and creative. With such a large selection of appreciation cards to pick from, it's possible to send a different card to all of your clients.
Business associates will be honored to receive business appreciation cards that are not only distinctive, but remarkably professional as well. Nothing says 'thank you' to clients better than a card that expresses your company' sincere appreciation for their business.
Business appreciation cards are a simple gesture to show clients that you are grateful for their business. There's no need to wait for the holidays to send out appreciation cards because any day is the perfect day to say 'thank you'.