Schweitzer Linen has served as the world's premier supplier of exquisite, high-quality linens for over 35 years, adorning master bedrooms with the most elegant collections of imported and domestic bedding, and enhancing bathrooms and dining rooms with the finest bath and table linens for the home.^
Elegant bed linens for the home

The search for exceptional linens for the home begins in the bedroom. You deserve to lay your head every night on bed linens that feature luxurious thread counts, inspired designs and magnificent embroidery details. Shop for intricately crafted and handmade comforters, duvet covers, blankets, throws, pillowcases, sheets, shams and dust ruffles in all of the finest fabric linens, from Egyptian cotton sateen to Damask and Chenille, and more sumptuous linens to dream on.
Customized linens for the bedroom
Design your own quality linens for the bedroom online, at no additional cost. Schweitzer Linen will incorporate your color schemes and design ideas, transforming your bedroom into the master bedroom you've always dreamed of. Personalize your new duvets, sheets and shams with tailored or scalloped edges, customized colors and embroidery details that will give your bedding pieces and home linens a truly personal touch.
Quality linens for the table

Create a fine dining experience every time you dress up your table with Schweitzer's fine table linens for the home. Whether you're preparing a family dinner, an intimate meal for two, or a festive affair for a large group of diners, you'll impress every guest with classic table linens that add elegance to every place setting. Find intricately detailed napkins, charming doilies, ageless tablecloths, runners and beautifully woven placemats that call for the finest occasions.
Furnish every room with the finest fabrics found around the world featuring linens for the home that have met all of Schweitzer Linen's standards of excellence. Indulge in home linens for the bed, bath or table that reflect magnificence.
Quality linens for the bath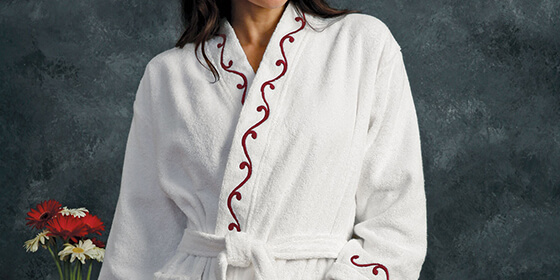 Give your guests luxurious guest towels to enjoy whenever they visit your powder room. Schweitzer Linen extends their reputation for fine linens for the home to the bathroom, with contemporary and traditional bath decor items including shower curtains, lush terry bathrobes, cushy slippers, soaps, and an unbelievably posh supply of towels imported from Europe, plus many more quality linens for the home bathroom!
Frequently Asked Questions
Care & Washing Instructions
By choosing Schweitzer Linen you have invested in some of the finest linens from around the world. This offers you some tips and guidance for the proper care and maintenance of your linens and will help ensure their long-lasting beauty, comfort and feel.
How long will my order take to arrive?
Please allow up to 10 working days to receive your order. If your delivery seems late please use the "Status Request" link at the foot of the home page and we will let you know the situation.
95% of all orders are shipped within 48 hours via ground service for delivery within 6 to 8 days (within the 48 contiguous States).
Custom and Monogrammed Linens will require more time. Most of our custom work is done in Italy, so please allow between 4-8 weeks. Our customer service liaison will discuss this with you at the time of order.
What is your Return Policy?
You may return or exchange merchandise, in unused & unwashed original condition, within 30 days of receipt. Please enclose a copy of the receipt and return it to the address found on the receipt. Note the action you wish taken. Return it to us insured (sorry, we cannot be responsible for non-delivery of uninsured packages and return expenses). Merchandise purchased on final sale, close-out items or custom ordered (like monogramming) is final. No exchange on washed or used merchandise. Delivery charges are non-refundable.
Can I cancel my order?
Our Customer Care team will be able to check whether your order may be cancelled. Please telephone them on 718.805.2122