Catalogs.com Departments

News & Articles

Creative Christmas Cards – CardsDirect Christmas
Be original this holiday with creative Christmas cards
This holiday season, step away from the norm and do something special for your clients. Instead of sending out the same dull Christmas cards this year, be original and send out something unique…surprise clients with creative Christmas cards.


You can personalize your creative Christmas cards by adding your own holiday message and your company logo.... read more


This catalog is currently out of stock.


Please search through our categories for another catalog.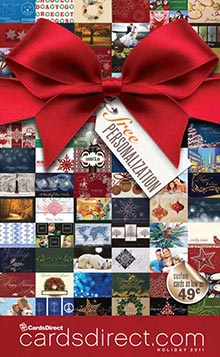 More About Creative Christmas Cards – CardsDirect Christmas:
Other great CardsDirect - Christmas Catalog departments:
If you prefer, you can browse through a large selection of pre-printed cards where you're sure to find just the right message.


Do something different this holiday season and send out Christmas calendar cards. Loved by many, calendar cards are functional, inventive and fun. So, if you are looking for creative Christmas cards, consider calendar cards and say "Season's Greetings".
Be original and reach out to volunteers, co-workers and clients with creative Christmas cards that are so stunning, their beauty stands out from all others. Based upon your preference, you can select from a variety of styles, colors, textures and patterns to find the cards right for you.
Have fun this holiday season with creative Christmas cards for your best clients. Your Christmas cards should say more than just season's greetings. Let your creative cards show your company's gratitude for working with the best.