Catalogs.com Departments

News & Articles

Happy Anniversary Cards – CardsDirect
Show your appreciation to family and friends with happy anniversary cards
Acknowledge that you appreciate your family and friends with happy anniversary cards. Select from anniversary cards with heart-felt messages already inside or personalize your cards with your own words. If you need assistance, call and speak with a friendly customer service team member.


Send out beautiful happy anniversary cards to express your gratitude, appreciation and love for those special people in your life.... read more


This catalog is currently out of stock.


Please search through our categories for another catalog.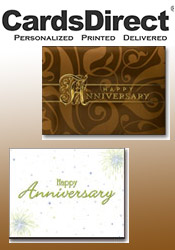 More About Happy Anniversary Cards – CardsDirect:
Other great CardsDirect departments:
To customize your cards, you can personalize your own special message and add your own pictures.


Loved ones will be thilled to receive happy anniversary cards. These customized cards come in a wide array of styles, shapes, textures and prices. You can even select from Spanish language anniversary cards if you want to say, "Feliz Anniversario".
Help to solidify personal relationships with happy anniversary cards that are ideal for spouses, children, in-laws and friends. Saying thanks has never been so easy when you show that you care and appreciate the time spent together.
Select from happy anniversary cards with gold embossed and script lettering, borders and patterned embellishments, or semi-gloss and matt finishes. These cards are so versatile, they are suitable for business and personal use.
Happy anniversary cards are the perfect way to show loved ones that the relationship you share is greatly appreciated. When you order your anniversary cards in bulk, you receive deep discounts and save lots of money.