Promotional Corporate Items - 4imprint
Promotional corporate items offer customizable gift solutions
Are you looking for a one-stop promotional corporate items shop? At 4imprint, they offer a vast selection of promotional goods that you can place your very own business logo on. From sturdy mugs for the coffee lover in your office or your gadget geek client, you'll find the perfect fit for every unique need.


The days of mass produced company tee shirts are over! Show your clients and employees that you care with customizable promotional corporate items.... read more



Shop for promotional corporate items


Catalogs.com Limited Time Savings:


Get 10% off orders of $100 or more


Enter coupon code - CAT19 - in the Coupon/Promo box in your shopping cart on the 4imprint website.


(offer expires: 06-19-2019)

Click to report savings error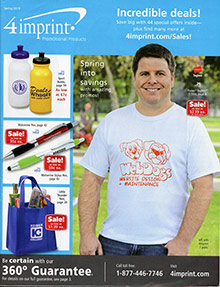 More About Promotional Corporate Items - 4imprint:
Other great 4imprint departments:
From cool flash drives to eco friendly totes, you can show everyone that you took the time to think about their distinctive personalities before purchasing their unique item.


Are you just trying to get your business name in front of the right people? Promotional corporate items are the perfect way to advertise! Give your business that unique flair with a terrific assortment of promo items that will keep people talking about your company name. Put your business' name on a unique and functional tote or on a stylish shirt.
Promotional corporate items are a unique and cost effective way to advertise or to give thanks to your hard working employees or your loyal clients. These unique and specialized corporate products will give your business a professional, distinctive appeal to everyone!