Catalogs.com Departments

News & Articles

Recycled Christmas Cards – CardsDirect Christmas
Show clients your eco-friendly side with recycled Christmas cards
Don't miss out on the festivities when the holidays come around. Prepare early this year, by giving your best clients recycled Christmas cards. Holiday cards are a wonderful way to show your clients that you appreciate their business. And, since these cards are printed on recycled paper, they also show how much you care about the environment.


Christmas is a time of giving.... read more


This catalog is currently out of stock.


Please search through our categories for another catalog.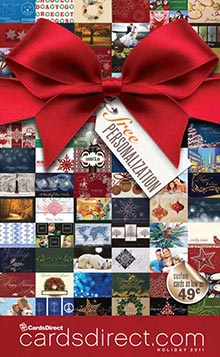 More About Recycled Christmas Cards – CardsDirect Christmas:
Other great CardsDirect - Christmas Catalog departments:
A good place to start is by sending your favorite clients recycled Christmas cards for the holidays. Show clients that their business is important to you, while also displaying your commitment to protect the planet.


Made from 100% recycled paper, recycled Christmas cards come in a variety of different styles, colors, textures, weights and patterns. To personalize your Christmas cards, add your own personalized greeting or your company's logo. Finish the look with accompanying recycled envelopes.
Sending recycled Christmas cards for the holidays is a creative way to show that you care for the environment and your company is willing to go the extra mile to keep clients connected.
Show your gratitude to clients this holiday season with high quality, recycled Christmas cards. Be mindful of the environment by sending beautiful recycled Christmas cards made from 100% recycled paper.