Catalogs.com Departments

News & Articles

Books on Health – Crafter's Choice®
Discover how to renew your body, mind and spirit with books on health
Beauty is more than just skin deep. That's why is important to pamper yourself by taking the essential steps to strengthen your body, mind and spirit. Read books on health, live life to the fullest and be the best that you can be.


Remove the clutter in your daily routine, clear your mind and enjoy the tranquility of a stress-free life.... read more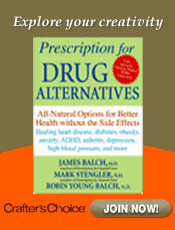 More About Books on Health – Crafter's Choice®:
Other great Crafter's Choice ® departments:
Read books on health to help you restore your mind, body and spirit by organizing your space.


You don't have to go far for a soothing facial, a deep conditioning for your hair or an energizing salt scrub? Books on health show you countless ways to pamper yourself and recreate the experience of a spa in the comfort of your own home.
Relax…release…renew. When you read books on health, you will learn how to unwind with yoga and other exercise programs. Let the tensions of daily life slowly evaporate as you reach and stretch your way to a calmer, more focused you.
Don't let the challenges of daily living get in the way. There are many inspirational books on health that show you how to lead a more fulfilling life through prayer and meditation.
Nurturing the mind, body and spirit allows you to live a life worthy of recognition. There are a variety of books on health that explain how to keep it simple, enjoy the moment and appreciate your strengths.