Catalogs.com Departments

News & Articles

Books on Spirituality – One Spirit®
Develop your mind, body and soul with books on spirituality
Books on spirituality help us to strengthen our relationships with ourselves, others and for some, a higher power. Challenge yourself to reach a higher level of understanding and appreciation through meditations, exercises and prayers that will help you reach your spiritual self.


Dealing with your fears is an important step to resolving many of your problems.... read more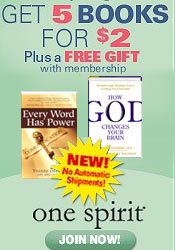 More About Books on Spirituality – One Spirit®:
Other great One Spirit departments:
Books on spirituality show you how to handle often troubling issues such as weight, money and addictions so that you can move on with your life.


Kindness is a simple concept, but many of us have a hard time showing it. Show you care for loved ones and even strangers by following basic principles found in books on spirituality.
Your relationship with God is very special. Deepen your understanding of the importance of faith, love and generosity. Books on spirituality explore God's role in your life and our desire to believe in a higher power.
Inspirational words to live by are found in books of spirituality. Here you will find answers to your most difficult questions and a better understanding of life's unknowns.