Catalogs.com Departments

News & Articles

Children's Board Books – Children's Book of the Month®
Children's board books are ideal for busy toddlers
Spark an interest in reading for your little one with chuncky children's board books that open the door to a world of imagination. Board books fit comfortably in little hands, are bursting with color and instantly engage even the most inquisitive minds.


Beloved nursery rhymes keep little children clapping and singing. You remember these classic rhymes as a child, so read these children's board books and bring that memory alive.... read more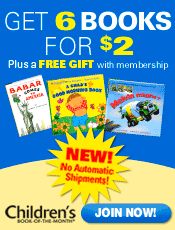 More About Children's Board Books – Children's Book of the Month® :
Other great Children's Book of the Month departments:
Teaching your child to read is easy as 1,2,3. Children's board books are a good way to introduce basic concepts to your child like ABCs, colors and animals. These books are simple to understand, fun and interactive.
Children's board books come in box sets of two or more books. These make the perfect gift for a new arrival, a toddler's birthday party or a loved one just for being special.
Children are eager to grow-up and they have fun pretending to be big people. Your child will have hours of fun learning all about being a firefighter, a school teacher and other notable jobs when reading children's board books.
Playtime has never been more rewarding than it is when kids flip through children's board books. Day or night, these books keep little ones wanting to read stories and rhymes that are fun, colorful and educational, too.