Catalogs.com Departments

News & Articles

Christian Bible Verses – Crossings®
Inspirational Bible verses on how to live a better Christian life
Books with Christian Bible verses will provide your entire family with inspirational messages to help you navigate through life's ups and downs. Adults and children will learn valuable lessons about how to live a Christian life.


Make your routine less hectic with daily planners and calendars that feature Christian Bible verses. Keep your life in order with the convenience of a telephone directory, appointment calendar, prayer journal and so much more.... read more


This catalog is currently out of stock.


Please search through our categories for another catalog.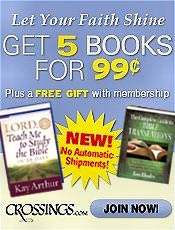 More About Christian Bible Verses – Crossings®:
Other great Crossings departments:
Couples will strengthen their relationship with each other and God by reading Christian Bible verses. Your marriage will stay strong if you keep God first and embrace the Word in your lives as you journey through life together.
Learn how Christianity came into existence and get a better understanding of how this religion has become such an important way of life for people around the world.
Understand what it means to be Christian with books that use Christian bible verses to explain the guidelines of this fascinating religion. Gain invaluable insights into one of the world's biggest religions.
Read Christian Bible verses to help direct your journey in faith and get a better understanding of some of Christianity's most beloved verses. Your family will treasure all that these verses represent.